"Temporary" is an inexact adjective, but the Fed has a different idea of temporary than most of the rest of us. From Wolf Richter at wolfstreet.com:
Inflation expectations are now totally unanchored.
Americans, as they struggle with the meaning of the Fed's terms "transitory" and "temporary," expect that inflation one year from now will rise to 5.7%, the 12th month in a row of relentless increases, the highest in the data going back to 2013, creating a beautiful record spike (red line), according to the New York Fed's Survey of Consumer Expectations released today. And consumers expect inflation in three years to be at 4.2% (green line).
The Fed keeps saying in its FOMC statements that it wants "longer‑term inflation expectations" to remain "well anchored" at 2%. And they're now totally unanchored and spiking to high heaven.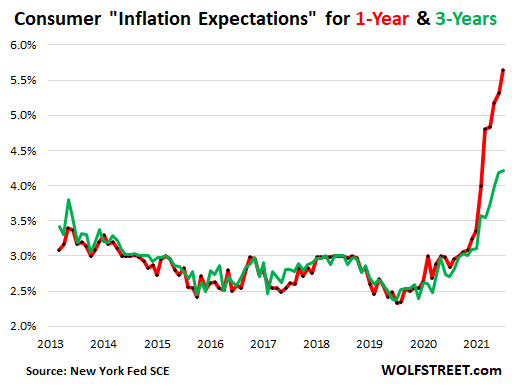 "Inflation expectations" is a key metric for the Fed, based on the theory that consumer price inflation is in part a psychological phenomenon – the inflationary mindset, as I call it.