They do hate it when celebrity actors don't follow the script. From Tyler Durden at zerohedge.com:
The Biden administration wheeled out US Surgeon General Vivek Murthy on Tuesday to rebut actor Matthew McConaughey, who said that while he's taken the jab, his kids aren't vaccinated and that he's against vaccine mandates for children.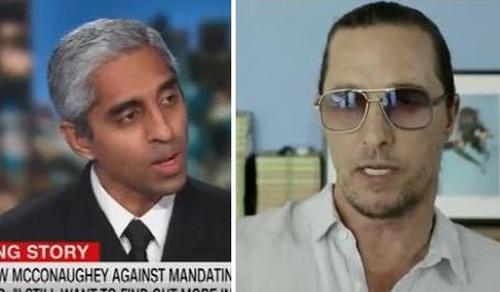 "I couldn't mandate having to vaccinate the younger kids. I still want to find out more information," the actor said at the New York Times DealBook summit earlier in the day, adding that as of "right now" he won't vaccinate his children.
Rebutting McConaughey's comment, Murthy told CNN's "OutFront" that "Covid is not harmless in our children," adding "Many kids have died. Sadly, hundreds of children — thousands — have been hospitalized, and as a dad of a child who has been hospitalized several years ago for another illness, I would never wish upon any parent they have a child that ends up in the hospital."
Watch: