Ashley Biden's diary is a lot more substantiated than the Steele Dossier, but it's getting about 1/1000 the attention that bogus document got. From Tyler Durden at zerohedge.com:
Ashley Biden's diary – over which Project Veritas was raided by the FBI last month – made its way to the whistleblower organization after Ms. Biden left her belongings at a friend's house, where she was staying after completing a rehab program for addiction, according to the New York Times.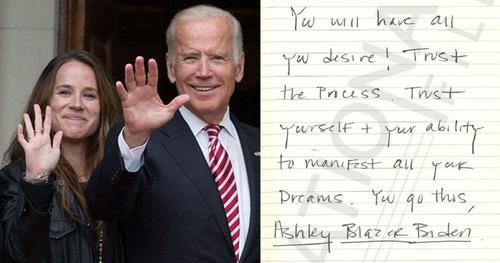 In the spring of 2020, as Joe Biden was in the process of clinching the Democratic presidential nomination, Ashley was living in Delray Beach, FL with said friend "who had rented a two-bedroom house lined with palm trees with a large swimming pool and wraparound driveway," according to people familiar with the matter.
In June, however, Ashley visited the Philadelphia area as Joe's campaign was ramping up.
"She decided to leave some of her belongings behind, including a duffel bag and another bag," according to the report.
Enter Aimee
Several weeks after Ashley left the Delray house, the friend who hosted her invited an ex-girlfriend named Aimee Harris and her two children to move in. Harris, in the middle of a custody dispute and financial woes, appears to have been a Trump supporter according to 'social media postings and conversations.' She learned that Ashley Biden had stayed there, and that some of her things had been left behind, according to two people familiar with the mater.
So how did it get to Veritas? Most likely Aimee.