Who is Joe Rogan, besides the reigning king of podcasting? From Ian Miles Cheong at rt.com:
'The Joe Rogan Experience' podcast and its host are hated by many, but loved by many more – and both have grown way beyond anyone's ability to cancel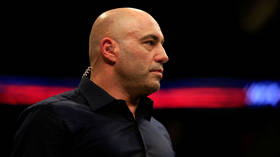 Love him or hate him, Joe Rogan is both the most popular podcaster in the world and one of the most controversial, but there's no doubt about his influence and his millions-strong listener base, which eclipses even those of the corporate media outlets. With a small team, a couple of microphones, and a room, the 54-year-old New Jersey native has created 'The Joe Rogan Experience' – an audio and video podcast that's extremely listenable, regardless of where you stand on the political spectrum.
Broadcast exclusively on Spotify, it has fast become the most listened-to podcast on the platform, having been overtaken in the number-one spot only briefly and locally a few times in 2021. Its numbers far surpass those of CNN, Fox News, and MSNBC, and exceed even those of primetime king Tucker Carlson.
Humble beginnings
The son of a former cop and the product of a broken home, Rogan comes from humble stock, but he's not one to complain or even talk much about his childhood. His family moved around the country before settling near Boston, Massachusetts, where he took up mixed martial arts (MMA) as a teenager because he was "terrified of being a loser." His enthusiasm for taekwondo blossomed into a career after he won the US Open Championship and became an instructor.