The Treasury market is way oversold and is due a substantial relief rally, but longer term, still higher interest rates loom. From Wolf Richter at wolfstreet.com:
Junk bonds are still in la-la-land though, Apocalypse but not now.
When investors demand higher yields on bonds, motivated sellers must lower the price of those bonds in order to sell them. And yields are now spiking and prices of bonds with longer maturities are plunging.
The one-year Treasury yield spiked by 38 basis points during the week, including 12 basis points on Friday, to 1.67%, the highest since October 2019. There is now a huge 150 basis point spread between the one-month yield of 0.17% and the one-year yield of 1.67%: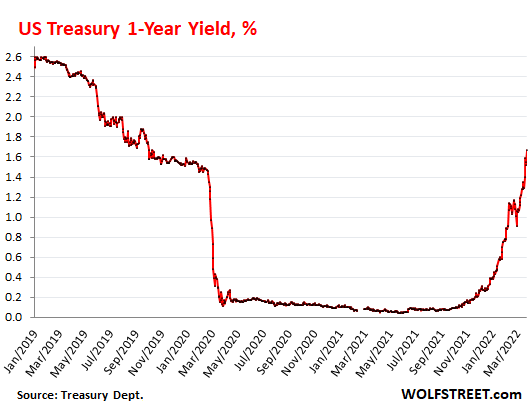 This is one heck of a fast-moving train. And the Fed hasn't even done much other than one tiny rate hike and lots of talking about what it's going to do, which is raise rates far faster and further than previously imagined, and kick off Quantitative Tightening "as soon as" May to finally crack down on inflation which is now spiraling out of control. And the credit markets got the memo.