I'll believe this one when I see it. From Tyler Durden at zerohedge.com:
Three weeks ago, we showed readers what happens when the infamous "Bullwhip effect" reversal takes place by presenting the unprecedented surge in the "Inventory to Sales" ratio for a broad range of US retailers covering the furniture, home furnishings and appliances, building materials and garden equipment, and a category known as "other general merchandise," which includes Walmart and Target. Since then, this ratio has only gotten even more extended, and as shown below it is now at the highest level since the bursting of the dot com bubble!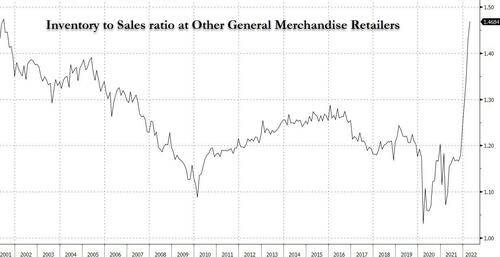 What does this mean for retailers and the price of goods? Three weeks ago we said "Think: widespread inventory liquidations" and added…
To be sure, not every product will see its price cut: commodities, whose bullwhip effect take much longer to manifest itself, usually lasting several years in either direction, are only just starting to see their price cycle higher. However, other products – like those carried by the Walmarts and Targets of the world – are about to see a deflationary plunge the likes of which we have not seen since the global financial crisis as retailers commence a voluntary destocking wave the likes of which have not been seen in over a decade.
Today both Wall Street and the mainstream media have caught up, with both predicting unprecedented deflationary price cuts in the coming weeks.