How badly has combat effectiveness been reduced because of the military's dangerous vaccine mandate? From J.M. Phelps at The Epoch Times via zerohedge.com:
Whistleblower service members are speaking out on behalf of thousands of service members whose careers have been jeopardized for objecting to Secretary of Defense Lloyd Austin's 2021 military COVID-19 vaccine mandate. They've expressed concern over the vaccine mandate's legality, as well as its health effects.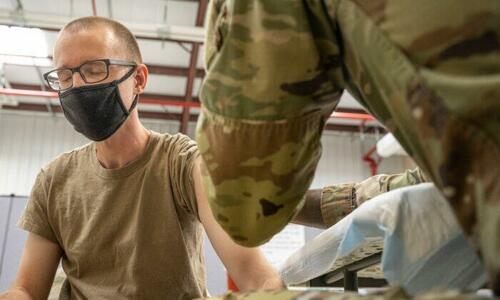 Alongside three members of the Armed Forces, attorney and former Marine Corps Capt. Dale Saran participated in a live-streamed military whistleblowers press conference on Oct. 18 to highlight concerns about the military vaccine mandate. The video has garnered more than 40,000 views, to date.
Saran once defended service members involved in a fight against the Pentagon's mandatory anthrax vaccination program. He is also challenging the Pentagon's vaccine mandate in a class-action lawsuit. He noted in the press conference the current case bears striking similarities to the legal battle against the anthrax vaccine program almost 20 years ago.
Saran said that "at the heart of most of the legal claims" against today's military COVID-19 vaccine mandate is the fact that "there is no licensed vaccine" available to service members.
The attorney and many service members argue that the Pentagon's vaccine mandate, which covers "COVID-19 vaccines that receive full licensure from the Food and Drug Administration (FDA), in accordance with FDA-approved labeling and guidance," does not apply to any vaccines issued under emergency use authorization (EUA), such as the Pfizer-BioNTech vaccine.
They say that the military has mainly offered service members EUA Pfizer-BioNTech vaccine, rather than the FDA-approved Cominarty vaccine, and thus cannot compel personnel to take them. They also argue that a Pentagon policy that says the Cominarty and EUA Pfizer-BioNTech vaccines are interchangeable is illegal.