Historians may well look back and say World War III began in either 2014 (Maidan coup) or 2022 (Russian invasion). From James Rickards at dailyreckoning.com: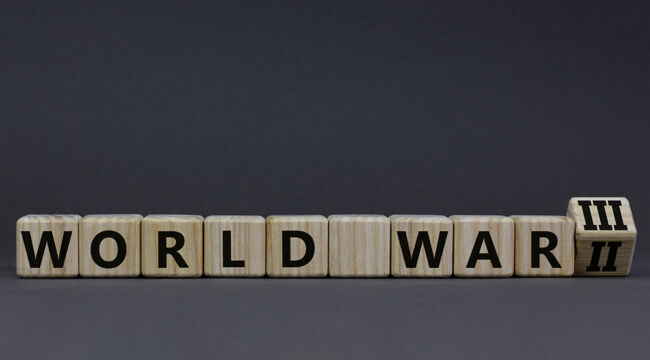 Has World War III already begun?
That's a serious question and deserves serious consideration by investors. A wave of analysts and commentators have warned that the war in Ukraine could spin out of control and escalate into World War III.
One variation on that theme is that the war could escalate into a nuclear war with tactical nuclear weapons deployed. Most point a finger at Russia as the party that will launch a nuclear strike out of desperation at a failing campaign in Ukraine.
Actually, the opposite is true.
The Russian campaign is not failing (it has been on hold for several months awaiting the right conditions to launch a winter offensive). You just don't hear about it in the mainstream media, which is essentially a propaganda outlet for Ukraine.
And the party most likely to use nuclear weapons first is the U.S. in order to save face and destabilize Russia once Ukraine is on the brink of collapse.
Reality Check
Many people have a hard time believing that. They've been told that Putin is the devil incarnate and would probably like to destroy the world. We like to think that in modern times we're sophisticated and above falling prey to propaganda. Unfortunately, it isn't true.
The fact is the U.S. did wage the only nuclear war in history from Aug. 6–9, 1945 and had a successful outcome. I'm not getting into the morality of it here, one way or the other. I'm just being objective.
Either way, another nuclear war could not be contained and it would be tantamount to World War III. It amounts to the same thing.
But my point is different. It's not that we may be headed to World War III; it's that we're already there. The issue of when wars in general and world wars in particular begin and end is not as clear cut as many believe. There are many examples.