Like or hate Warren Buffet, he's a pretty fair investor from whom a thing or two can probably be learned. From Tyler Durden at zerohedge.com:
Many were wondering if Warren Buffett would address his recent unwind of Berkshire's $4+ billion stake in Taiwan Semi – a brand new position that had catapulted into the investing conglomerate's Top 10 holdings as of Sept 30 '22 only to see it slashed by 86% just one quarter later…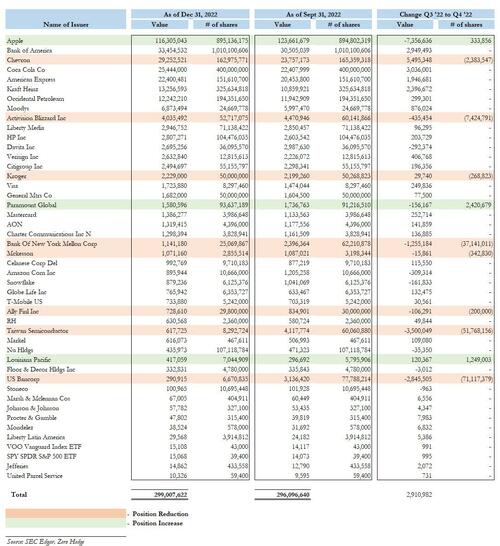 … and this morning, when Buffett filed the latest Berkshire annual letter, they got the answer: an unequivocal no.
So what did Buffett talk about in his latest and – at just barely 9 pages – shortest ever letter since Berkshire launched the practice of recapping his investment principles, activities and results some 46 years ago in 1977? Nothing that he hasn't addressed on countless previous occasions. Below we summarize some of the key highlights.
First, here is a snapshot of Berkshire Q4 financials:
Q4 profit fell, reflecting lower gains from investments and foreign currency exchange losses as the U.S. dollar lost value. Quarterly net income fell 54% to $18.16 billion, or $12,412 per Class A share, from $39.65 billion, or $26,690 per share, a year earlier.

Of course, as is well-known, Buffett despises GAAP earnings and instead urges investors to look at operating earnings instead which strip away the quarterly fluctuations of the conglomerate's public stock investments (i.e. unrealized gains/losses).
The GAAP earnings are 100% misleading when viewed quarterly or even annually. Capital gains, to be sure, have been hugely important to Berkshire over past decades, and we expect them to be meaningfully positive in future decades. But their quarter-by-quarter gyrations, regularly and mindlessly headlined by media, totally misinform investors.