Imagine, the whole world is clamoring for lithium and other rare elements and government are trying to grab a piece of the action. From Tyler Durden at zerohedge.com:
The weaponization of commodities in a world that is increasingly turning multipolar and where legacy trade links and commercial bridges are burning down metaphorically (and in some cases literally) is accelerating.
Chile's President Gabriel Boric stunned the world on Thursday when he said he would nationalize the country's lithium industry, the world's second largest producer of the metal essential in electric vehicle batteries, to boost its economy and protect its environment.
The shock move in the country with the world's largest lithium reserves would in time transfer control of Chile's vast lithium operations from industry giants SQM and Albemarle to a separate state-owned company.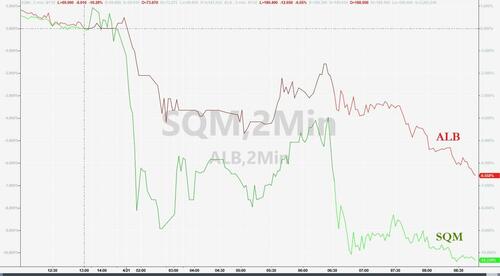 The nationalization poses a fresh challenge to electric vehicle (EV) manufacturers scrambling to secure battery materials, as more countries look to protect their natural resources. Mexico nationalized its lithium deposits last year, and Indonesia banned exports of nickel ore, a key battery material, in 2020.
"This is the best chance we have at transitioning to a sustainable and developed economy. We can't afford to waste it," Boric said in an address televised nationwide.