Robert F. Kennedy has pledged to pardon the man the Trump Administration Justice Department went after with an 18 count indictment. From Azerbaycan24 at azerbaycan24.com: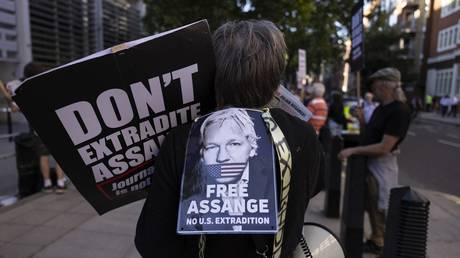 FILE PHOTO: Protesters in the UK demand Julian Assange's immediate release. ©  Dan Kitwood / Getty Images
Robert F. Kennedy Jr. declared that "the America I love does not imprison dissidents"
US presidential candidate Robert F. Kennedy Jr. has vowed to pardon "brave truth-tellers" including WikiLeaks founder Julian Assange, who is currently being held in a British high security prison as he fights extradition to America.
The US "actively persecutes journalists and whistleblowers" instead of championing free speech, Democratic contender Kennedy tweeted on Tuesday. "This isn't the Soviet Union. The America I love doesn't imprison dissidents."
The Australian-born Assange is effectively facing a lifetime sentence for his role in the leaks by US military whistleblower Chelsea Manning. Assange was arrested in Britain in 2019 after Ecuador revoked his political asylum, allowing police to enter its embassy in London, where he had been holed up for seven years.