More travesty in the tyranny onslaught that passes as criminal procedure for the January 6 defendants. From Joseph M. Hanneman at The Epoch Times via zerohedge.com:
The U.S. Department of Justice (DOJ) is seeking a 25-year prison sentence for Oath Keepers founder Elmer Stewart Rhodes III, who was found guilty at trial of seditious conspiracy and other Jan. 6, 2021-related charges.
Such a sentence would by far be the longest of any Jan. 6 criminal prosecution.
In a 183-page sentencing memorandum (pdf) filed in U.S. District Court in Washington, the DOJ also recommended prison sentences from 10 to 21 years for seven other Oath Keepers and an associate who were found guilty during trials in 2022 and early 2023 of various Jan. 6 crimes
"These defendants were prepared to fight. Not for their country but against it," federal prosecutors wrote in a filing with U.S. District Judge Amit Mehta.
"In their own words, they were 'willing to die' in a 'guerrilla war' to achieve their goal of halting the transfer of power after the 2020 Presidential election. As a co-conspirator recognized, their actions made these defendants 'traitors.'"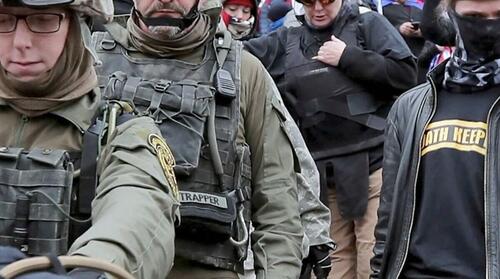 Other defendants, and the DOJ's sentence recommendations, include Kelly Meggs, 21 years; Jessica Watkins, 18 years; Roberto Minuta, 17 years; Edward Vallejo, 17 years; Kenneth Harrelson, 15 years; Thomas Caldwell, 14 years; Joseph Hackett, 12 years; and David Moerschel, 10 years.
'Including Use of Force'
In crafting the recommendations, prosecutors applied enhancers and upward departures from sentencing guidelines for aggravating factors, such as obstruction and the role each defendant allegedly played on Jan. 6, 2021.