The Jordan Neely case in New York is focusing attention on the issue of the force one can use to defend one's self or others. From Joshua Philipp at The Epoch Times via zerohedge.com:
If someone you love were threatened, or physically attacked, do you have the right to defend them? And even more so, when police are being defunded and when criminals are being released on the streets, do you have a right to protect yourself?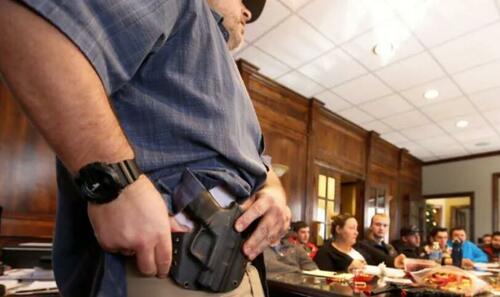 Do you have to just let things happen?
Must you just watch while innocent people are victimized by criminals?
Well, that's the question currently on trial in New York.
That's the case of Jordan Neely.
Now, if you read most news outlets on the left, you'll hear the 30-year-old black man was a street performer and Michael Jackson impersonator.
You'll also hear that his friends said he was a sweet kid, and that he later suffered from mental disabilities and became homeless.
If you read news outlets on the right, you'll hear that he was arrested 42 times between 2013 and 2021.
In 2015, he was convicted of trying to kidnap a 7-year-old girl in Inwood, Queens, and was sentenced to four months in jail. Then, in 2021, he was arrested for punching a 67-year-old woman in the face as she exited a subway train in New York's East Village, breaking her nose and fracturing her orbital bone.
He pleaded guilty, and while facing 15 months in an alternative-to-incarceration program, he skipped his court date, and had a warrant out for his arrest since February.
Both sides of Neely's story are true. He was a talented dancer who suffered from mental problems, and had become a criminal menace. The New York justice system repeatedly let him off the hook. Even outside of his arrests, people were posting online about personal experiences of being threatened or attacked by Neely.
And then, on May 1, Neely was allegedly threatening passengers on a New York subway car until a former U.S. Marine intervened; he restrained Neely with a chokehold while two other men helped subdue him. After Neely lost consciousness, the men placed Neely in a recovery position, and yet, Neely died.