Even the Russians admit the Ukrainians fought tenaciously, but Russian artillery and manpower was just too much. From Tyler Durden at zerohedge.com:
Head of the Russian private military group Wagner, Yevgeny Prigozhin, has announced Saturday that after months of grinding warfare and heavy casualties, Russia has now taken full control of the strategic city of Bakhmut.
Prigozhin is announcing final victory and that Bakhmut has finally fallen. "The operation to capture Bakhmut lasted 224 days" he said in a video posted to Wagner's Telegram channel. "Today at noon, Bakhmut was fully captured," he declared.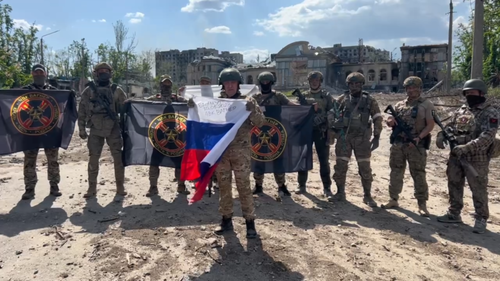 Russian state media is also declaring "The key Donbass city of Artyomovsk, known as Bakhmut in Ukraine, has been fully liberated by the Russian forces…".
Prigozhin described that full capture of the city finally came when an area containing high-rise buildings where the final Ukrainian defensive holdout had a presence was conquered.
Western media reports have said they can't verify the claims, but headlines in Reuters and the Associated Press are widely reporting the Wagner chief's declaration of victory:
In a video posted on Telegram, Wagner head Yevgeny Prigozhin said the city came under complete Russian control at about midday Saturday. He spoke flanked by about half a dozen fighters, with ruined buildings in the background and explosions heard in the distance.