Talk about blowback. From Pablo Escobar at zerohedge.com:
The consensus among future historians will be inevitable: the 2020s started with a diabolic murder.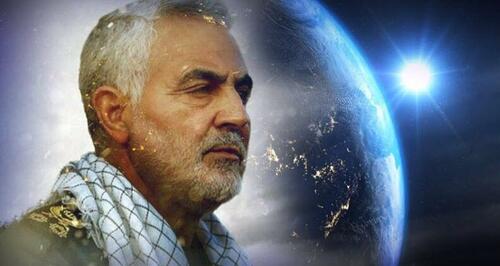 Baghdad airport, January 3, 2020, 00:52 a.m. local time. The assassination of Gen.QassemSoleimani, commander of the Quds Force of the Islamic RevolutionGuards Corps (IRGC), alongside Abu Mahdi al-Muhandis, deputy commander of Iraq's Hashd al-Sha'abi, by laser-guided AGM-114 Hellfire missiles launched from two MQ-9 Reaper drones, was, in fact, murder as an act of war.
This act of war set the tone for the new decade and inspired my book Raging Twenties: Great Power Politics Meets Techno-Feudalism, published in early 2021.
The drone strikes at Baghdad airport, directly approved by the pop entertainer/entrepreneur then ruling the Hegemon, Donald Trump, constituted an imperial act engineered as a stark provocation, capable of engendering an Iranian reaction that would then be countered by, "self-defense", packaged as "deterrence".
The proverbial narrative barrage spun to saturation, ruled it as a "targeted killing": a pre-emptive op squashing Gen. Soleimani's alleged planning of "imminent attacks" against US diplomats and troops.No evidence whatsoever was provided to support the claim.