From the time Trump appointed Bill Barr SLL said he was 100 percent Deep State. He did nothing during his time as Attorney General to change that assessment. From Jeff Carlson and Hans Mahncke at The Epoch Times via zerohedge.com:
On May 18, 2020, then-Attorney General Bill Barr made a statement to the media, declaring that special counsel John Durham's investigation into the origins of the Russiagate hoax wasn't focused on either former President Barack Obama or former Vice President Joe Biden, stating that "I don't expect Mr. Durham's work will lead to a criminal investigation of either man."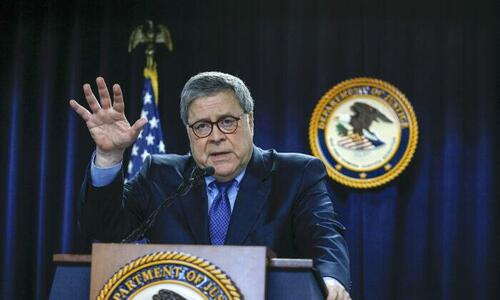 In his new book, Barr has revealed that he made that statement in response to a series of tweets by then-President Donald Trump. A week earlier, Trump had started using the term "Obamagate" on Twitter, alleging that both Obama and Biden had "led the charge" on the FBI's phony Russiagate investigation.
Barr recounts in his book that he felt it was unacceptable for Trump to attempt to drag his presidential election opponent into the Russiagate scandal and that Barr felt that it was incumbent upon him to make a public statement.