The world was short Treasuries and the world was rewarded with stronger than expected stats on inflation and retail sales that sent bond prices down and yields up. 
But something funny happened on the way to the headlines.
In describing the retail-sales data released today, words like "slumps" and "declines" kept cropping up in the headlines. This referred to the seasonally adjusted month-over-month data, so the percentage change from December retail sales (peak holiday selling season) to January retail sales (peak merchandise-return season). This comparison is only possible with gigantic seasonal adjustments that try to smooth away the holiday selling peak and the post-holiday hangover in a way that, hopefully, the index ticks up a bit from December to January.
In today's reading, this change in seasonally adjusted total retail sales – includes food services and drinking places such as restaurants and bars – ticked down 0.3% from December to January, triggering the "slumps" and "declines" in the headlines. But this figure is only as good as the seasonal adjustments. Here is what the month-over-month percentage change of total retail sales looks like not seasonally adjusted: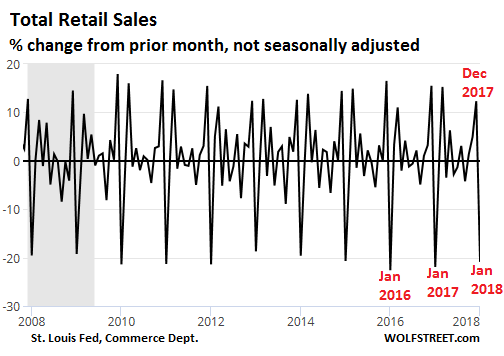 Not seasonally adjusted, total retail sales plunged 21% from December to January, but they plunged between 19% and 23% in prior Januaries. Hence the gigantic seasonal adjustments needed to smoothen out this wildly gyrating seasonal data.
But on a not-seasonally-adjusted basis, the year-over-year growth in total retail sales was a healthy 5.1% in January, compared to January 2017, in the same range of the year-over-year changes in prior months and at the higher end of the spectrum since 2012: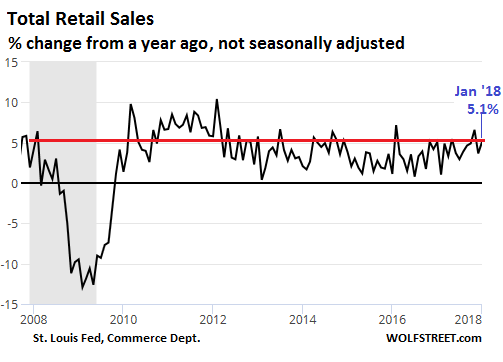 There was only tepid growth in the bar-and-restaurant business, with sales of food services up only 1.8% year-over-year. Excluding food services, retail sales jumped 5.6% year-over-year not seasonally adjusted: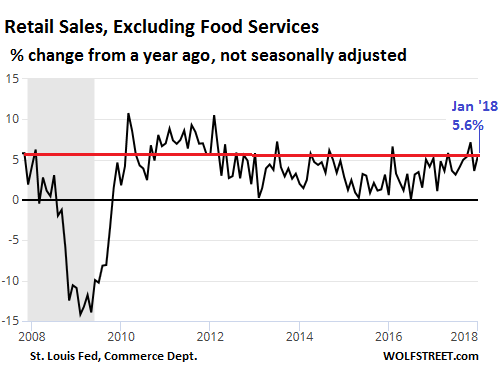 To continue reading: Retail Sales, Inflation Add Fuel to Fed's Rate-Hike Trajectory, Treasuries Dive as Yields Surge