Wolf Richter says the "trade war" may not have been the cause of the stock market's drop. He might want to follow up on that thesis and check out Robert Prechter's large body of work. From Wolf Richter at wolfsreet.com:
Bull markets climb a wall of worry. What the heck happened?
OK, it was an ugly week. Facebook (FB) dropped 14% and lost $75 billion in market cap. It's down 10% year-to-date. It's currently trying to dig itself deeper into its self-inflicted debacle. It wasn't just Facebook. Alphabet (GOOG) dropped 10% in the week and is down 2.4% year-to-date. This was a broad selloff.
The S&P 500 index dropped nearly 6% for the week and 9.9% from the peak on January 26. It's down 3.2% year-to-date. At 2,588, it's just 7 points above the low point on February 8, which is begging to be taken out on Monday. This drop is big enough to show up on a long-term chart, but given the nine-year 320% rally, why would anyone be surprised?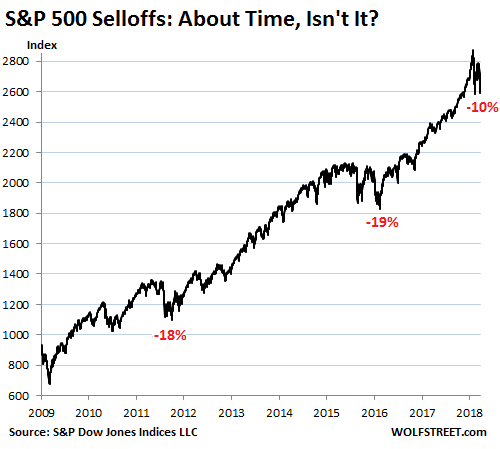 The Dow dropped 5.7% for the week. It's down 11.6% from the peak on January 26, and down nearly 5% year-to-date. It carved out a new low in this down-cycle.
The Nasdaq dropped 6.5% for the week, and 7.8% from its peak on March 12, but is still up 1.3% for the year.
When stocks soared no matter what, it was because they were "climbing a wall of worry," which is, as it was ceaselessly pointed out, what bull markets do. Bad news was good news. It didn't matter what happened. The worse the news was, the more stocks would climb. Falling earnings and revenues no problem. Geopolitical nightmare scenarios no problem. Trump's promises during the campaign and after the election to fix the trade imbalances in the US were just as well communicated as his promises to cut taxes. From the day Trump was elected until its peak on January 26, the S&P 500 soared 30%.
To continue reading: So is the "Trade War" Crushing Stocks?