Many brick and mortar stores are getting killed by e-commerce. From Wolf Richter at wolfstreet.com:
Only about half of retail is under attack from e-commerce, but that half is getting crushed.
E-commerce sales in the first quarter soared 16.4% from a year ago to a new record of $123.7 billion (seasonally adjusted), according to the Commerce Department this morning. E-commerce includes sales by online retailers such as Amazon but also by the online operations of brick-and-mortar retailers, such as Walmart, Target, or Macy's. Over the past five years, e-commerce sales have doubled: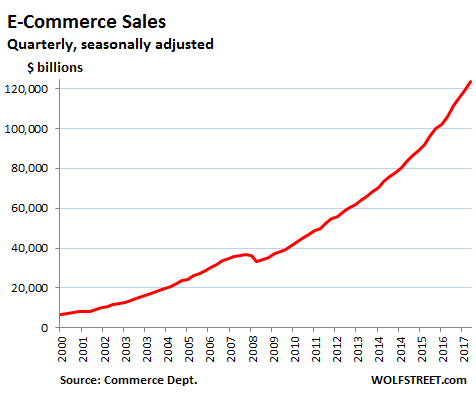 Many observers keep pointing out that e-commerce still accounts for only a small part of total retail sales — in Q1 a new record of 9.3%. And so these observers say the brick-and-mortar meltdown isn't happening. But it's not that simple.
There is a bitter reality hidden under these averages: Some retail sectors are getting totally crushed by e-commerce, but others remain largely resistant for now – and this has been borne out by retailer bankruptcies and liquidations over the past three years.
How did brick-and-mortar retail do on its own?
Total retail sales in Q1 – e-commerce and brick-and-mortar combined, but excluding sales at restaurants and bars – increased 5.3% year-over-year to $1.31 trillion.
Retail sales without e-commerce in Q1 rose 3.4% from a year ago.
The "online resistant" bunch: These are brick-and-mortar sectors whose sales have not massively migrated online, for various reasons, including the nature of the product. Most prominently: Gas stations, auto dealers, and grocery and beverage stores. These "online-resistant" sectors combined account for over half of all brick-and-mortar sales. In Q1, their combined sales rose 4.6% to $610 billion.
The "under-attack" bunch: Most of the remaining sectors are under all-out attack from e-commerce. And sales at the "under-attack" sectors edged up only 2.1% in Q4, below the rate of inflation as measured by CPI, even as e-commerce sales surged 16.4%. This chart shows how e-commerce is eating into the share of the brick-and-mortar retailers that are under attack: