E-commerce continues to take more of the retail dollar away from bricks and mortar stores. From Wolf Richter at wolfstreet.com:
Department stores get crushed one by one.
Ecommerce sales in the third quarter 2019 spiked 17.3% from a year ago to $145.7 billion, not seasonally adjusted, according to the Commerce Department. On a seasonally adjusted basis, sales hit $154.5 billion. Ecommerce sales will exceed $600 billion in 2019, double the amount five years ago. In dollar terms, ecommerce sales jumped by $20.4 billion in Q3 compared to a year ago, the biggest dollar-jump in the history of ecommerce: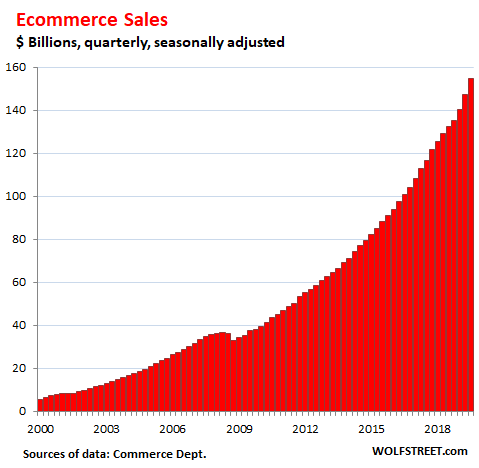 Ecommerce sales include the ecommerce operations of brick-and-mortar retailers, many of which have built thriving online operations: Among the top 10 ecommerce retailers, behind Amazon and eBay, are the online divisions of seven brick-and-mortar retailers, according to eMarketer, in that order: Walmart, Apple, Home Depot, Best Buy, Macy's, Qurate Retail Group (QVC, HSN, Zulily, Ballard Designs, Frontgate, Garnet Hill, and Grandin Road), Costco. The 10th in the top ten is Wayfair, an ecommerce retailer.