Women are and will be second-class citizens in Saudi Arabia for a long time. From Medea Benjamin at antiwar.com: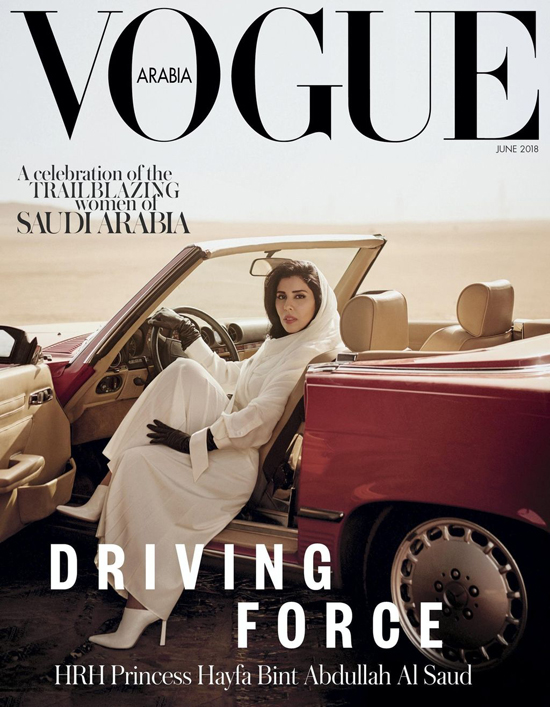 The June issue of Vogue Arabia is dedicated to the "trailblazing women of Saudi Arabia" and the much-awaited June 24 date that will give Saudi women the right to drive. The cover shot is a glamorous photo of Princess Hayfa bint Abdullah Al Saud in the Jeddah desert, perched in the driver's seat of a vintage red 1980s Mercedes-Benz convertible.
"It is easy to comment on other people's societies and think that your own society is superior, but the Western world must remember that each country is specific and unique," the princess told Vogue. "We have strengths and weaknesses but, invariably, it's our culture, and it's better to try to understand it than to judge it."
But unlike the wealthy, pampered princess, for decades Saudi women themselves have been judging, and desperately trying to change, their society. They have been fighting to lift the travel ban since 1990, when 47 women piled into cars and drove around the capital. They were arrested and thrown in jail. Their passports were confiscated, those with government jobs were fired, and they were denounced in mosques across the country. Similar protests took place in 2011, 2013 and 2015.
Many Saudis believe the faces of these activists should be gracing the cover of Vogue Arabia and social media is ablaze with "corrected versions" of the magazine. But instead of celebrating the true Saudi heroes, since May 15 at least 11 activists, both women and male allies, have been arrested. One of the activists is in her 60s and another is 70 years old. Four have since been released.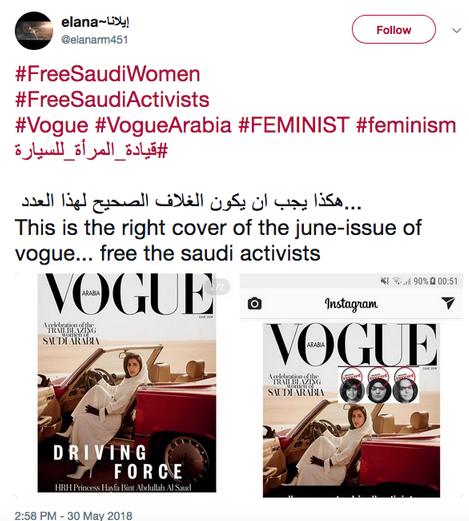 They are accused of "suspicious contact with foreign parties" and undermining the "security and stability" of Saudi Arabia. In a vicious smear campaign, the state-run media released their photos with the word "traitor" stamped in red across their faces. These peaceful activists may now face up to 20 years in prison for their work against the decades-old driving ban.
To continue reading: The Message from Saudi's 'Reformist' Crown Prince to Saudi Women: Shut Up and Drive