When the US mucks around in the Middle East, it creates refugee blowback for Europe. When the US mucks around in Central America, it creates refugee blowback for the US. From Joseph Nevins at theconversation.com: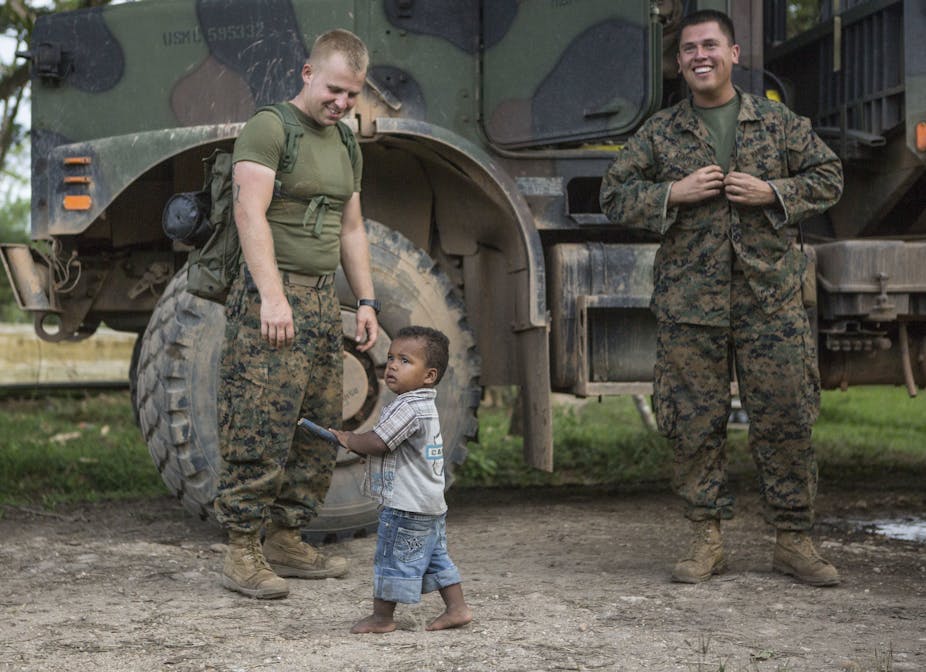 Central American migrants – particularly unaccompanied minors – are again crossing the U.S.-Mexico boundary in large numbers.
In 2014, more than 68,000 unaccompanied Central American children were apprehended at the U.S.-Mexico boundary. This year so far there have been close to 60,000.
The mainstream narrative often reduces the causes of migration to factors unfolding in migrants' home countries. In reality, migration is often a manifestation of a profoundly unequal and exploitative relationship between migrant-sending countries and countries of destination. Understanding this is vital to making immigration policy more effective and ethical.
Through my research on immigration and border policing, I have learned a lot about these dynamics. One example involves relations between Honduras and the United States.
U.S. roots of Honduran emigration
I first visited Honduras in 1987 to do research. As I walked around the city of Comayagua, many thought that I, a white male with short hair in his early 20's, was a U.S. soldier. This was because hundreds of U.S. soldiers were stationed at the nearby Palmerola Air Base at the time. Until shortly before my arrival, many of them would frequent Comayagua, particularly its "red zone" of female sex workers.
U.S. military presence in Honduras and the roots of Honduran migration to the United States are closely linked. It began in the late 1890s, when U.S.-based banana companies first became active there. As historian Walter LaFeber writes in "Inevitable Revolutions: The United States in Central America," American companies "built railroads, established their own banking systems, and bribed government officials at a dizzying pace." As a result, the Caribbean coast "became a foreign-controlled enclave that systematically swung the whole of Honduras into a one-crop economy whose wealth was carried off to New Orleans, New York, and later Boston."
By 1914, U.S. banana interests owned almost 1 million acres of Honduras' best land. These holdings grew through the 1920s to such an extent that, as LaFeber asserts, Honduran peasants "had no hope of access to their nation's good soil." Over a few decades, U.S. capital also came to dominate the country's banking and mining sectors, a process facilitated by the weak state of Honduras' domestic business sector. This was coupled with direct U.S. political and military interventions to protect U.S. interests in 1907 and 1911.
To continue reading: How US policy in Honduras set the stage for today's mass migration