Many internet commentators would like to treat every statistic and story emanating from the government indicating the economy is strong as just so much propaganda. However, how do you explain the trucking industry, which is going great guns? From Wolf Richter at wolfstreet.com:
"Fleets are desperate for more equipment, but trucks are in short supply due to the supplier constraints."
Orders for heavy trucks that haul trailers loaded with anything from junk food to oil-field equipment across the US skyrocketed 141% in June compared to a year ago, to 41,800 orders, making it the highest June ever recorded, according to transportation data provider FTR. For the first six months this year, order volume of Class 8 trucks surged nearly 90% from a year ago to a phenomenal 235,050 units.
The chart below shows the percentage change of Class 8 orders compared to the same month a year earlier. Note the transportation recession when orders plunged, and truck makers were responding with layoffs. Orders began to rise in early 2017, including the year-over-year spike of 158% in October 2017, compared to the terrible October a year earlier: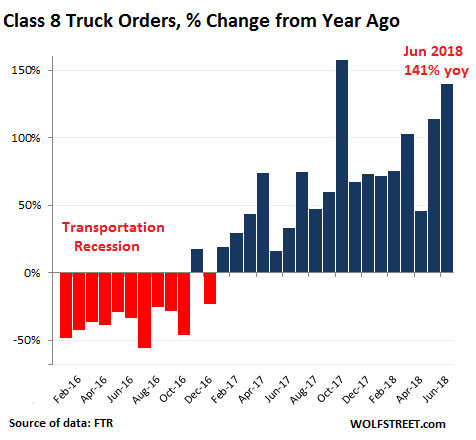 Truck manufacturers "cannot keep up with demand due to component shortfalls," FTR reported. "The backlogs are being moved out further, which is pushing fleets to get orders in sooner rather than later so they can find a build slot."
This chart of Class 8 truck orders in units also shows that orders are seasonal, that month-to-month declines starting in March are typical, and that June is typically a weak month. But not this year: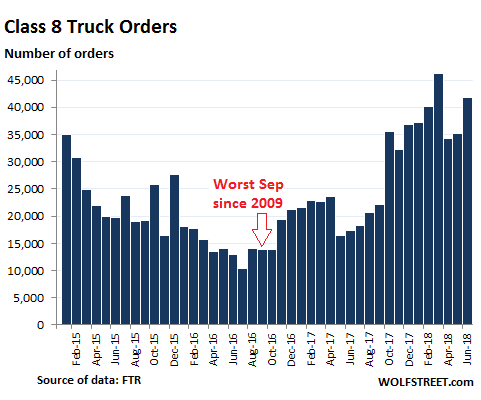 FTR points out how the circularity of rising orders and subsequent delays getting orders filled leads to even more orders and even greater delays – which is part of the boom-and-bust cycle of the industry:
"There is an enormous demand for trucks due to burgeoning freight growth and extremely tight industry capacity. However, supply is severely constrained because OEM suppliers cannot provide the needed parts and components required to build more trucks fast enough. This bottleneck is causing fleets to get more orders in the backlog in hopes of getting more trucks as soon as they are available."

"Fleets are desperate for more equipment, but trucks are in short supply due to the supplier constraints. This is creating a surge in orders as fleets react to this unusual situation.  If OEMs were producing at capacity, the truck build this year could have been as high as 360,000 units. Orders for the last twelve months have now reached 411,000, so there are some excess orders in the backlog."
To continue reading: Heavy-Truck Orders Explode, Trucking Companies Struggle with "Capacity Crisis," Truck Makers & Supply Chains are Inundated, Backlog is Ballooning, But it's a Cyclical Business