This is a bombshell if it turns out to be true. From Vivian Nereim and Taylan Bilgic at bloomberg.com:
The Saudis were discussing a plan to lure Khashoggi back to the kingdom, The Washington Post reported, citing a person familiar with the communications, which were intercepted before he vanished. Khashoggi, a columnist for the newspaper, was last seen entering the Saudi consulate in Istanbul on Oct. 2 and is feared to be detained or dead.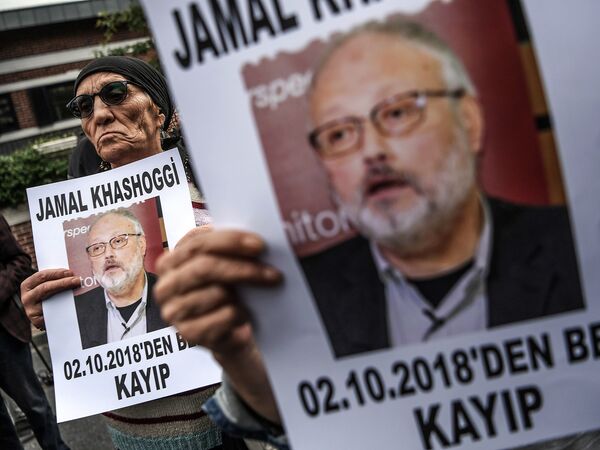 It wasn't clear whether the Saudis wanted to interrogate or kill him, or whether the U.S. warned the journalist he was a target, the person said.
A Turkish official, speaking anonymously and without providing evidence, has said the 59-year-old journalist was murdered by a 15-member team sent for the task. The Saudi government has denied the allegation, but without producing any proof to back up Crown Prince Mohammed bin Salman's assertion that Khashoggi exited the building.
The columnist's disappearance has put further strains on Saudi Arabia's ties with Turkey, two Sunni-led powers in the Middle East at odds over regional policy. But far more damaging to Saudi Arabia are warnings by U.S. lawmakers that the kingdom could face economic and other consequences if reports that he was harmed prove true.
Trump's Plan
President Donald Trump said on Tuesday that he planned to contact Saudi authorities over the case. Republican Senator Lindsey Graham of South Carolina said it's "imperative" that the Saudi government give clear answers about what happened to Khashoggi.
"If there was any truth to the allegations of wrongdoing by the Saudi government it would be devastating to the US-Saudi relationship and there will be a heavy price to be paid — economically and otherwise," Graham wrote on Twitter. "Our country's values should be and must be a cornerstone of our foreign policy with foes and allies alike."
Khashoggi had been living in self-imposed exile in the U.S. for the past year. His disappearance rekindled concern about a crackdown on dissent in the kingdom after a year in which Saudi authorities have detained hundreds of businesspeople, royals, activists and clerics on grounds of rooting out corruption, terrorism and other risks to national security.
Legal Proceedings
On Tuesday, Turkish Foreign Ministry spokesman Hami Aksoy said Saudi authorities had agreed to allow a search of the consulate. State-run Anadolu Agency said two prosecutors have been assigned to carry out "legal proceedings" at the building.
In an email shared with reporters on Tuesday and described as a "personal message," Prince Khalid bin Salman, the Saudi ambassador to the U.S., called Khashoggi a friend. Saudi Arabia has sent its own security team to work with Turkish counterparts and intends to "chase every lead to uncover the truth behind his disappearance," he said.
The prince denied as "absolutely false" any suspicion that Saudi agents might have detained or killed Khashoggi, and contended it was "outrageous" to think he might have been "murdered in the consulate, during business hours, and with dozens of staff and visitors in the building."
For many years, Khashoggi had been the consummate Saudi insider, hobnobbing with and advising royals before becoming a vocal critic of their policies. His move to the U.S. was prompted by concerns he'd be detained in Saudi Arabia or banned from travel as he became increasingly alienated from the leadership.
In government-aligned newspapers and on social media, many Saudis have advanced a narrative that the accusations are part of an insidious campaign to smear their country — pointing fingers at Turkey, Qatar and the Muslim Brotherhood, an Islamist group that Saudi Arabia and some of its Arab allies consider a terrorist organization.
Turkish newspaper Sabah, without saying how it obtained the information, reported that on the day Khashoggi went missing, two jets arrived from Riyadh to Istanbul carrying 15 passengers, then returned home later that day via Egypt and Dubai. While that story said Khashoggi may have been murdered, another Sabah story said he may have been taken out of the country on one of the jets.
Anadolu reported that on Oct. 2, Turkish officials had searched a private jet that came from Saudi Arabia and its passengers but didn't find anything.