Shale oil is a great thing, if you can make money extracting it. From Tyler Durden at zerohedge.com:
The collapse in the shale industry is continuing with no signs of stopping or even slowing down.
No sooner did we highlight how shale is doomed no matter what the industry does and how recent price movements have triggered chaos across the industry, than we find out that oil producers and their suppliers are now cutting budgets, staffs and production goals, according to Reuters.
The U.S. now has 904 working rigs, which is down 14% from a year ago. Harold Hamm, chief executive of shale producer Continental Resources, still thinks this could be too many. 
Additionally, bankruptcy filings by U.S. energy producers through mid-August of this year have matched the total for all of 2018 already. Earl Reynolds, CEO of Chaparral Energy said:
"You're going to see activity drop across the industry."
His firm has slashed its workforce by about 25% and cut spending by about 5%. It has also agreed to sell its headquarters and use some of the proceeds to pay off debt.
Cowen & Co. estimated last month that oil and gas producers deployed 56% of their total budgets through June and the firm expects total spending to fall 11% over last year.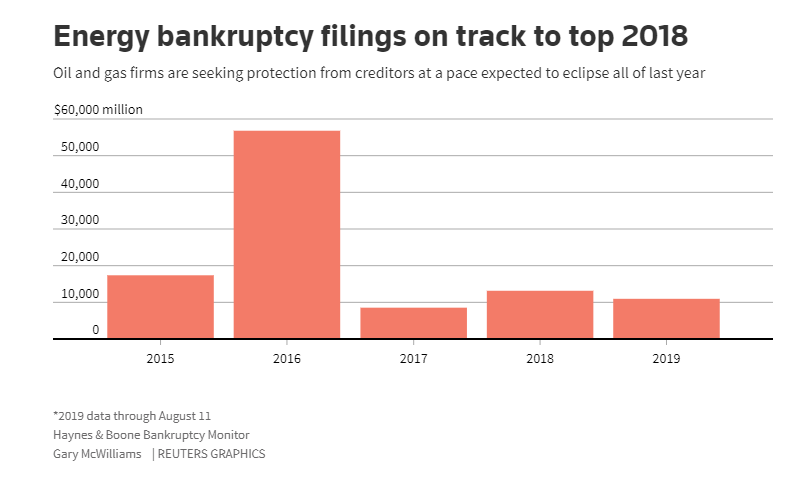 And one slowdown begets another: as drilling slows, oilfield services companies are also making staff and budget cuts. Some, like Schlumberger and Halliburton Co., are considering restructurings. For example, Schlumberger is planning a writedown this quarter and has said that its North American results have been "under significant pressure".