$255 trillion is just the stated, nominal debt, and doesn't include unfunded liabilities, contingent liabilities, or derivatives. From Tyler Durden at zerohedge.com:
There are three certainties in life: death, taxes and that global debt will keep rising in perpetuity.
Addressing the third, yesterday the Institute of International Finance reported that global debt has now hit $250 trillion and is expected to hit a record $255 trillion at the end of 2019, up $12 trillion from $243 trillion at the end of 2018, and nearly $32,500 for each of the 7.7 billion people on planet.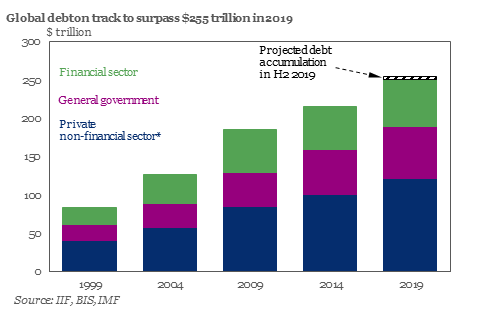 "With few signs of slowdown in the pace of debt accumulation, we estimate that global debt will surpass $255 trillion this year," the IIF said in the report.