There are a lot of blacks who fear crime and despise criminals, and they're leaving in droves the Democrat party that has embraced both. From Tyler Durden at zerohedge.com:
The trend we have been noting for the last week has accelerated overnight and 'the streams have crossed', with the average bookie now seeing it more likely that President Trump wins the 2020 election that Joe Biden.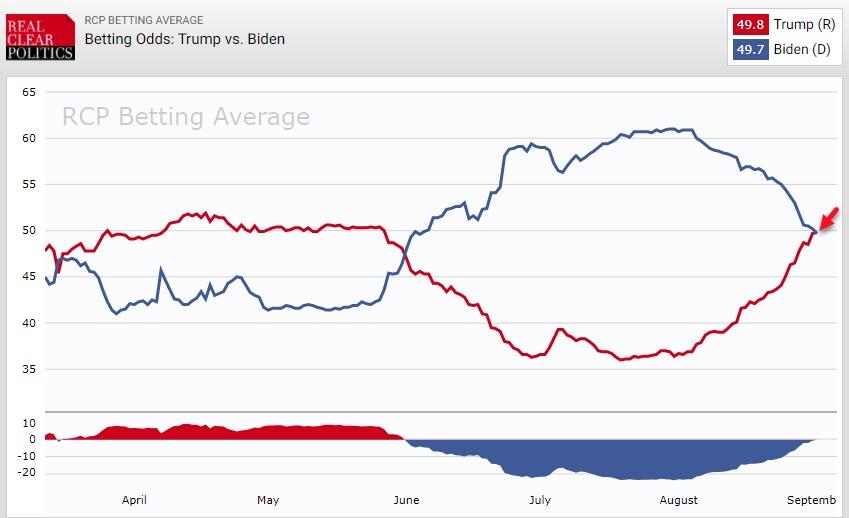 This huge swing comes as Summit News' Paul Joseph Watson notes that the results of a new national poll reveal that a stunning 28 per cent of black Americans plan on voting for President Donald Trump.
The Atlas Intel poll finds that Biden leads Trump nationally by just three points.
But the real story lies in the percentage of Hispanic and black voters who told the pollsters that they will vote for Trump.
According to the survey, 28 per cent of African-Americans say they plan to vote for Trump, a stunning figure.
29 per cent of black Americans also approve of the job Donald Trump is doing.
This compares to 2016 when Trump attracted 8 per cent of the black vote while Hillary Clinton captured 89 per cent. Joe Biden is down to 66 per cent of the black vote, according to the poll.
Amongst Hispanics, Trump is up 13 points on the 2016 (41%), while Biden is down 10 per cent (56%).
The reason behind the surge in black support for Trump could be the fact that the Black Lives Matter movement seems to be backfiring after 3 straight months of violent riots and unrest.
As we highlighted earlier, a separate poll found that Trump's support amongst African-Americans has doubled since 2016, although the results of the Atlas Intel poll blows even that figure out of the water.