American movie theaters may soon be no more than a memory. From Wolf Richter at wolfstreet.com:
Out-of-money-date for Cineworld — owner of Regal, second largest movie theater chain in the US — is in November or December, but it's hoping for a US taxpayer bailout.
The cinema business – like brick-and-mortar malls – has been in structural decline long before the Pandemic. The number of movie tickets sold had peaked in 2002 in the US, and has since been declining, beset by competition from technologies that deliver movies to the home, at first DVDs, then Blue ray disks, and with the spread of broadband, online services, such as Netflix, Amazon, Disney, and others. People are watching more movies than ever. But they're doing it at home: Before the Pandemic, the number of tickets sold had dropped by 22% from the peak in 2002 through 2019: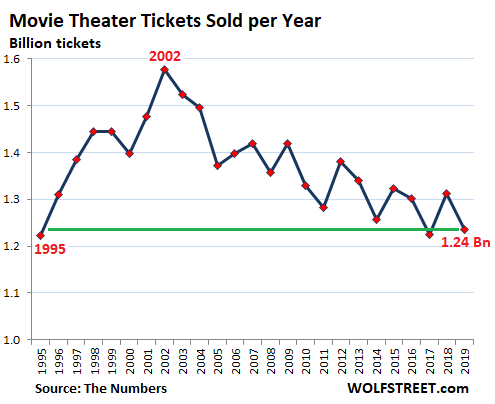 On a per-capita basis, ticket sales dropped by 31% from 2002 through 2019, from 5.5 tickets per person in 2002 to 3.8 tickets per person in 2019.
So this was a tough environment to begin with. Jacking up ticket prices while adding bars with overpriced drinks and food, and providing comfortable big chairs as amenities, worked to some extent to counteract the decline in ticket sales. In 2019, according to movie data provider The Numbers, box office sales of $11.25 billion were only a tad below 2016 ($11.26 billion) even though the number of tickets sold fell by 5%.
The Pandemic compressed the process of years into a few months.
Cineworld Group, whose Regal Theaters are the second largest theater chain in the US, behind AMC and ahead of Cinemark, announced today that it would close all its 536 Regal Theaters in the US and its 127 Cineworld and Picturehouse theaters in the UK, starting October 8, and that 45,000 jobs are at risk:
As major US. markets, mainly New York, remained closed and without guidance on reopening timing, studios have been reluctant to release their pipeline of new films. In turn, without these new releases, Cineworld cannot provide customers in both the US and the UK – the company's primary markets – with the breadth of strong commercial films necessary for them to consider coming back to theatres against the backdrop of COVID-19.