Yet another demonstration of the FBI's complete corruption. From Tyler Durden at zerohedge.com:
The FBI is stonewalling a congressional inquiry into Hunter Biden's overseas business activity described in a Senate report last month which chronicles the Biden family's international conflicts of interest, as well as potentially criminal business activity, according to The Federalist.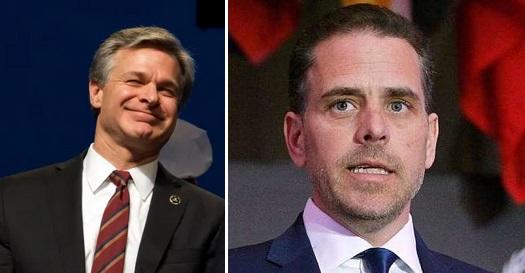 The Senate report detailed Hunter's financial dealings with Ukrainian, Chinese and Russian businesses created potential "criminal financial, counterintelligence and extortion concerns," and alarmed US officials who perceived an ethical conflict of interest and flagged potential crimes ranging from sex trafficking to bribery.
Last week, in response to the report, Ohio Rep. Jim Jordan (R) – the ranking member on the House Judiciary Committee, demanded answers from the FBI over what actions it's taken, if any, regarding 2015 reports from the DOJ, that the owner of Ukrainian energy giant Burisma paid a $7 million bribe to government officials to shut down an investigation while Hunter sat on its board.
"The report by Chairman Johnson and Chairman Grassley shows that the FBI has been aware of some alleged misconduct for years," Jordan wrote to FBI Director Christopher Wray.
Jordan also highlighted concerns raised within the Obama State Department regarding Biden's lucrative board position with Burisma. He raked in upwards of $50,000 a month despite his lack of experience while his father, Joe Biden, served as the administration's "public face" of White House policy towards the Eastern European ally.

"The report detailed widespread concern within the Obama-Biden Administration about Hunter Biden's role on the board of Burisma Holdings, a Ukrainian company founded by Mykola Zlochevsky," Jordan wrote. "The Chairmen noted that they had asked the FBI about its actions in response to these allegations, but have received no answer from you." –The Federalist