The virus did what the virus did, regardless of whether people were locked down, businesses were closed, jobs were lost, and masks were worn…or not. From Tyler Durden at zerohedge.com:
How is it that California enacted draconian COVID lockdown measures, yet had nearly identical results to Florida – a state which went out of its way to avoid shackling residents with small business-killing prohibitions and mentally unhealthy isolation?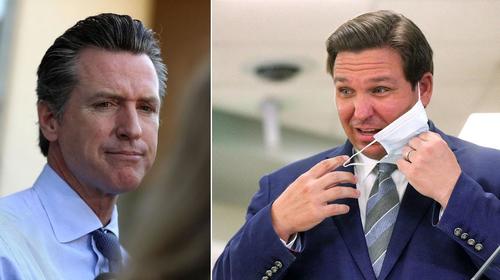 According to an analysis by the Daily Mail, California Governor Gavin Newsom's (D) strict lockdowns resulted in 8,499 cases and 130 deaths per 100,000 residents, while Florida Gov. Ron DeSantis's hands-off approach – such as lifting an ordinance preventing people from operating businesses and restaurants – has resulted in 8,306 cases and 117 deaths per 100,000 residents.
Not only that, both states followed roughly the same trajectories for various COVID-19 metrics – with Florida looking better by virtually every measure when adjusted for population, and California looking like Orwellian overlords save for multiple judges which have tossed Newsom's edicts because the state failed to provide a scientific basis for their decisions – and has concealed their 'methodology' that has driven business-killing decisions.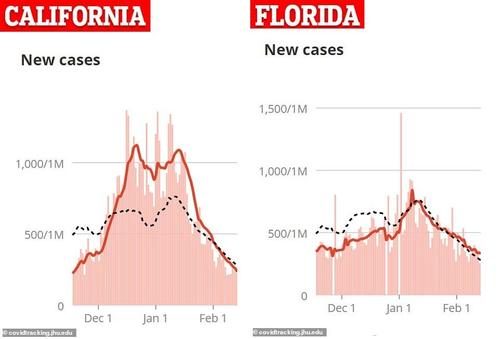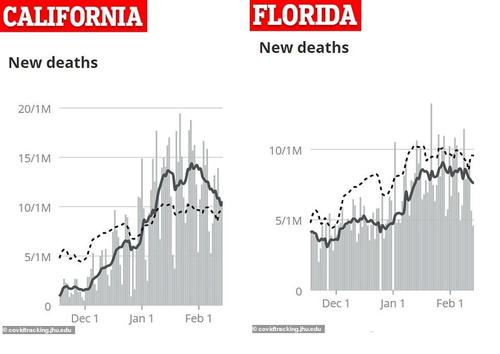 The hospitalizations cures of California (left) and Florida (right) bear a striking resemblance to each other with peaks seen around early-to-mid January and declines ever since. The dashed line represents the national seven-day average and the solid line represents California's and Florida's seven-day averages -Daily Mail