Like everything connected with Covid-19, a pandemic treaty will be about power and control, not medicine and science. From Neil Clark at rt.com: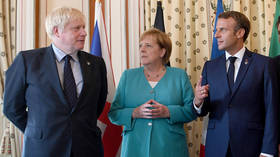 Johnson, Macron and Merkel have warned that the world needs a settlement to protect itself in the wake of Coronavirus. The question, as ever, must be: 'who benefits?' The answer, as ever, is 'it's unlikely to be you.'
"Out with nationalism and isolationism and in with international 'Health and Security'!"
That's the cry from 24 world leaders, led by the British Prime Minister Boris Johnson, French President Emmanuel Macron and German Chancellor Angela Merkel. The call for a new global 'pandemic preparedness' treaty came in a letter to the Daily Telegraph and in papers across the world.
The letter uses words and phrases such as 'solidarity,' 'global community,' 'international cooperation' and 'protect' repeatedly, to make us all feel that what is being proposed is for the good of us all. But is it?
If we read between the lines, we can see quite clearly that, while the plan is supposed to be about post-Covid pandemics, it is really about making sure that the draconian measures introduced since 2020 are maintained as long as possible. The 'nobody is safe until everyone is safe' mantra which appears at the end of the second paragraph in the letter, is saying to us – as Merkel and other globalists have strongly hinted – that restrictions cannot and will not be lifted until everyone in the world has been vaccinated.