Drought is looming as a larger and larger fact of life in the western half of the US. From Tyler Durden at zerohedge.com:
We've documented (read here & here) this spring of a "megadrought" sweeping through the western half of the country and could be one of the worst in decades. This is troubling news because major water reservoirs have already dropped to dangerously low levels, cutting off access to farmers.
The latest US Drought Monitor map shows nearly the entire western half of the nation is experiencing some level of drought at this moment. Parts of the Southwest could be undergoing their second Dust Bowl as conditions continue to deteriorate.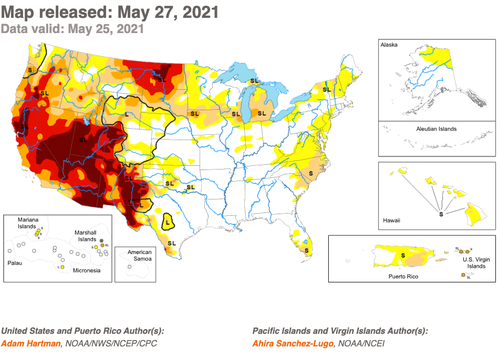 According to Reuters, for farmers like Joe Del Bosque, located in Firebaugh, California, a third of his 2,000-acre farm is unseeded this spring due to extreme drought and the inability to source water.
About 40% of California's 24.6 million acres of farmland is irrigated. State and federal agencies that regulate reservoirs and canals across the state do not have enough water to allocate to farmers. Many of them are leaving their fields unplanted as a result of the water shortage.