I grew up in Los Alamos and my father did atomic bomb tests in the southern Nevada desert in 1957. I take a keen interest in the history of the atomic and hydrogen bombs and if this review is to be believed this is a good book. From Lawrence Wittner at antiwar.com:
In this crisply written, well-researched book, Lesley Blume, a journalist and biographer, tells the fascinating story of the background to John Hersey's pathbreaking article "Hiroshima," and of its extraordinary impact upon the world.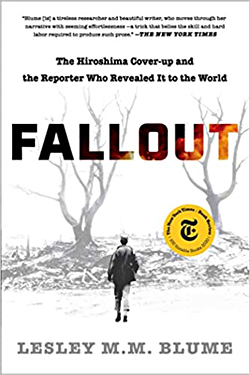 In 1945, although only 30 years of age, Hersey was a very prominent war correspondent for Time magazine – a key part of publisher Henry Luce's magazine empire – and living in the fast lane. That year, he won the Pulitzer Prize for his novel, A Bell for Adano, which had already been adapted into a movie and a Broadway play. Born the son of missionaries in China, Hersey had been educated at upper class, elite institutions, including the Hotchkiss School, Yale, and Cambridge. During the war, Hersey's wife, Frances Ann, a former lover of young Lieutenant John F. Kennedy, arranged for the three of them to get together over dinner. Kennedy impressed Hersey with the story of how he saved his surviving crew members after a Japanese destroyer rammed his boat, PT-109. This led to a dramatic article by Hersey on the subject – one rejected by the Luce publications but published by the New Yorker. The article launched Kennedy on his political career and, as it turned out, provided Hersey with the bridge to a new employer – the one that sent him on his historic mission to Japan.
Blume reveals that, at the time of the U.S. atomic bombing of Hiroshima, Hersey felt a sense of despair – not for the bombing's victims, but for the future of the world. He was even more disturbed by the atomic bombing of Nagasaki only three days later, which he considered a "totally criminal" action that led to tens of thousands of unnecessary deaths.