It doesn't appear anybody has thought too seriously about disposing of solar panels, and the risks to the environment of doing so. From Rob Lyons at rt.com: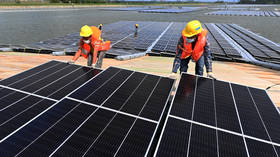 Rob Lyons
is a UK journalist specialising in science, environmental and health issues. He is the author of 'Panic on a Plate: How Society Developed an Eating Disorder'.
Environmentalists' bright promises of utilising solar energy to power the world are darkening quickly as it becomes clear how much dangerous trash is generated, with tonnes of old panels being discarded in landfill sites.
The basic pitch for 'net zero' policies to combat climate change is this: a warming world will be devastating, but we can cut emissions down to next-to-nothing by using renewable energy technologies like wind and solar, which will keep on getting cheaper and cheaper. But the idea that we can have it all – energy that is plentiful, zero-carbon, and cheap – is a mirage, at least when it comes to renewables.
There are some obvious, long-standing problems with renewables: what happens when the sun doesn't shine or the wind doesn't blow? Some argue in favour of nuclear energy, others for using biomass (which basically means burning wood pellets and planting new trees to soak up the CO2 eventually), while some hope that energy storage using batteries will save the day. Whatever the solution, the problem of low-carbon electricity is going to keep getting bigger as we demand the phasing out of fossil fuels – including a shift to electric cars and banning gas boilers.