My red pill experience was when I started looking into the JFK assassination. Because there has never been a full disclosure of the evidence and the official lies are so twisted and impossible to believe, the assassination still has the power to red pill for those who take the time and make the effort to look at it. That's why they're ignoring Oliver Stone's documentary. From Michael McCaffrey at rt.com: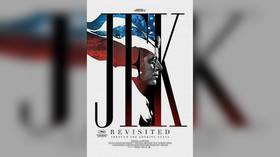 JFK Revisited: Through the Looking Glass by Oliver Stone, 2021. © IMDB
The establishment media is celebrating odd, sexually charged movies at the Cannes Film Festival – yet won't even acknowledge Oliver Stone's foray back into the troubling case of President John F. Kennedy's murder. I wonder why?
Last week, Oliver Stone premiered his new documentary about the Kennedy assassination titled 'JFK Revisited: Through the Looking Glass', at the Cannes festival.
You'd think that Stone, the polarizing, two-time Best Director Academy Award winner, whose filmJFK created such a furor it led to the US government passing the JFK Assassination Records Collection Act of 1992, premiering a controversial JFK assassination documentary at Cannes would be very big news. You'd be wrong.