There's nothing suspicious here at all, folks, just move along. From Mimi Nguyen Li at The Epoch Times via zerohedge.com:
A fourth police officer who was present at the grounds of the Capitol building when it was breached on Jan. 6 has died by suicide, according to the Metropolitan Police Department of the District of Columbia (MPD).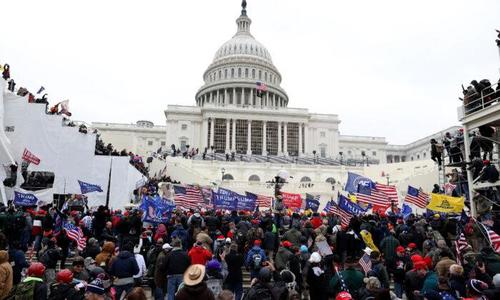 Metropolitan Police Officer Kyle DeFreytag, 26, was said to have died on July 10 from suicide, according to a statement by MPD spokesman Hugh Carew, reported Reuters.
DeFreytag had been with the police department since November 2016. The MPD said that he was at the Capitol to enforce curfew violations, reported WUSA.
Chief Robert J. Contee III had sent a message to the police force last month to notify them of DeFreytag's death.
"I am writing to share tragic news that Officer Kyle DeFreytag of the 5th District was found deceased last evening," Contee told the department in July, according to WUSA. "This is incredibly hard news for us all, and for those that knew him best."
DeFreytag lived in Alexandria, Virginia, and was originally from Pennsylvania, according to an obituary posted by the Bensing-Thomas Funeral Home. A memorial service was held in his memory on July 31.
"He liked hiking, camping, riding his motorcycle, he liked traveling and playing the drums, he enjoyed trying different ethnic foods and always knew the best places to eat. Kyle was kind, he had a quick wit and a great sense of humor and kept us laughing for 26 years," according to the obituary.
DeFreytag is survived by his parents, his brother and sister, and her husband.
The confirmation from the MPD of DeFreytag's suicide came just hours after 43-year-old Gunther Hashida was confirmed to have died by suicide.