How about that! When the European Central Bank shovels fiat debt liquidity into the system prices go up, just like in the US when the Fed does the same. From Tyler Durden at zerohedge.com:
While a faint glimpse of reality did sneak through into the ECB's latest set of economic projections, with the central bank now projecting that for the first time in over a decade, Europe's 2021 inflation will surpass the ECB's stated target of 2.0%, rising to 2.2% from the June projection of 1.9%, the balance of the outlook remained troubling, with the ECB now predicting inflation drops to 1.7% in 2022 and then again to 1.5% in 2023.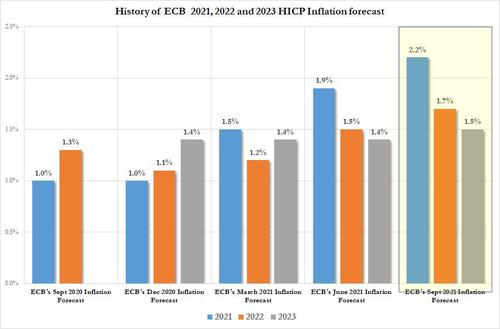 As Bloomberg's Ven Ram put it, "the key number in all of ECB President Christine Lagarde's projections is the HICP inflation number of 1.5%, which shows a modest revision that was expected by the markets. In other words, there's still no sight of 2% inflation over the medium term.   So after all these years of negative rates, APP and PEPP, there will be no end to yet-more accommodation and the ECB is saying its inflation target is still very much work-in-progress. And that against a backdrop where the ECB's own estimates show growth this year and next will be better than it has been in a long, long time. Little wonder that BTPs and bunds are bid."
Meanwhile, as Lagarde stakes the ECB's reputation on the current burst of inflation once again being merely "transitory", the reality on the ground is far uglier, and as the NYT writes overnight, soaring natural gas prices threaten to become a drag on the economies of Europe and elsewhere. Wholesale prices for the fuel are at their highest in years — nearly five times where they were at this time in 2019, before people started falling ill with the virus.