Maybe some sort of vitamin or nutritional deficiency is responsible. From James Bowman at The Epoch Times via zerohedge.com:
The disease in its pandemic form is far from over. Our former hopes of its eradication and a return to normalcy in the new year now appear forlorn. We shall just have to live with it for the forseeable future, it seems.
The president, it's true, has told us that, although the virus "has been hitting this country hard, we have the tools to combat the virus, if we can come together as a country and use those tools."
But he was only talking about the coronavirus and not the much-less controllable but equally virulent virus causing Trump Derangement Syndrome (TDS) on a near-pandemic scale.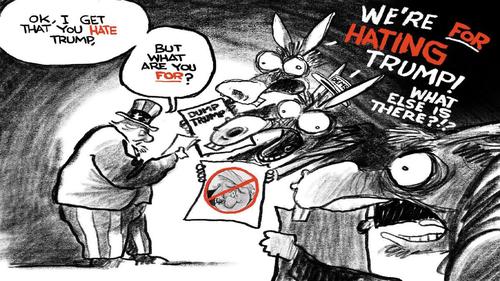 That is something against which we appear to have no "tools" at all. Indeed, the president himself is an unrelieved sufferer from "long" TDS, as he showed in this same speech by enthusiastically participating in the "pandemic politics" he decried in others and implying that former President Donald Trump's efforts against the coronavirus—including Operation Warp Speed, which developed the vaccines he was now mandating—had been unavailing until he came along.
By thus politicizing his own anti-COVID efforts, did he somehow imagine he was going to persuade vaccine skeptics to trust themselves to his good faith in recommending them to get immunized?