Nobody in the US really knows for certain what the intentions and plans are of the Chinese government. Which makes it a good idea to keep a close eye on what it does. From Judith Bergman at gatestoneinstitute.org: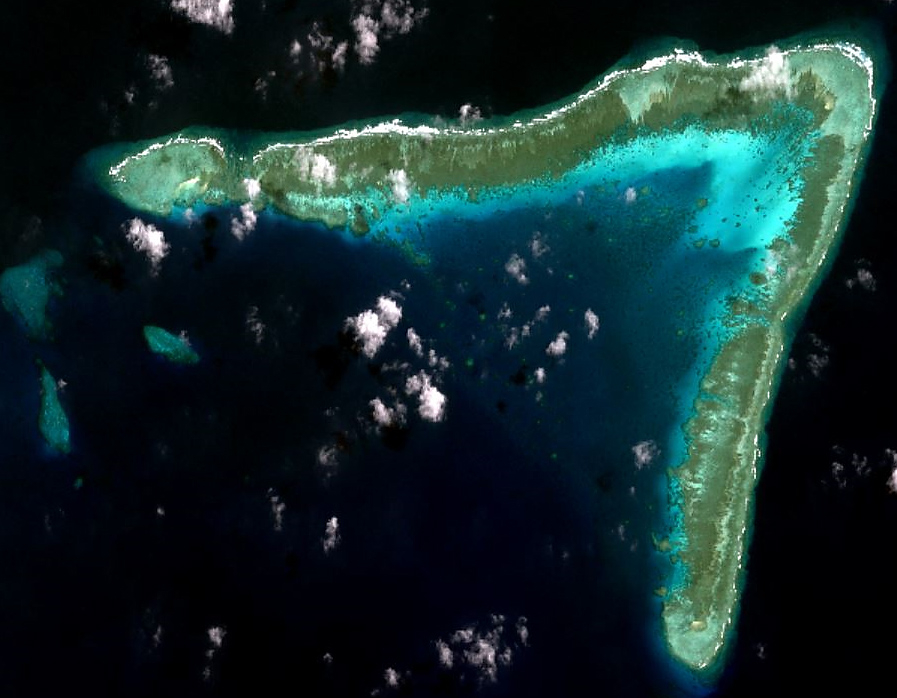 In March, a huge Chinese fishing fleet descended on Whitsun Reef, which lies within the exclusive economic zone of the Philippines. The Philippine government called on China to cease "militarizing the area". Almost eight months later, however, more than 150 Chinese vessels reportedly remain in Philippine waters. Pictured: Whitsun Reef, as seen from space. (Image Source: United States Geological Survey/NASA/Wikimedia Commons)
Tensions continue to rise in the South China Sea, as China, or, rightly, the Chinese Communist Party (CCP), ramps up its military activities in the region. Within only the first four days of October, China conducted a record-breaking 150 incursions into Taiwan's air defense identification zone (ADIZ) — after China's People Liberation Army Air Force (PLAAF) had already, in September, set another monthly record with 117 incursions, some with nuclear-capable bombers, fighter jets and reconnaissance planes. The incursions were reportedly the highest monthly number on record since Taiwan's Ministry of National Defense began reporting Chinese aerial incursions 13 months ago. In addition, in August, the first-ever incursion of Chinese military helicopters into Taiwan's ADIZ took place, with experts suggesting that the PLA was probing Taiwanese defense capabilities by using different aircraft.
Also in August and September, China conducted assault drills near Taiwan with war ships, early-warning aircraft, anti-submarine aircraft and bombers. "The joint fire assault and other drills staged by the Eastern Theater Command troops are a necessary action to further safeguard China's sovereignty under the current security situation in the Taiwan Straits," Colonel Shi Yi, spokesperson for the PLA Eastern Theater Command said, "and also a solemn response to the interference of foreign forces and the provocation of 'Taiwan independence' secessionists." Shi stated that military exercises would be "conducted regularly" based on the situation in the Taiwan Strait and the "need to maintain sovereign security". China has conducted 20 naval island-control exercises in the first half of 2021, compared to 13 in all of 2020.
This activity — in addition to diplomatic and economic pressure — is evidently meant to exhaust Taiwan, force it to capitulate to China and relinquish its independence without China firing a shot. "China is pursuing an all-of-party approach that seeks to coerce, corrupt and co-opt the international community," former commander of the U.S. Indo-Pacific Command, Philip Davidson, recently warned, "in a way in which they may be able to achieve their geopolitical edge… to force Taiwan to capitulate because of extreme, diplomatic, economic, pressure and strain". Failing that coercion, Davidson estimates:
"the changes in the [People's Liberation Army]'s capabilities, with their missile and cyber forces, and their ability to train, advance their joint interoperability and their combat support logistics, all those trend lines indicate to me that within the next six years they will have the capability and the capacity to forcibly reunify with Taiwan, should they choose force to do it."