The medical establishment has been one Covid lie after another, and how many doctors can say that the patients who've received the vaccines they've administered were exercising informed consent. From R.M. Huffman at rt.com: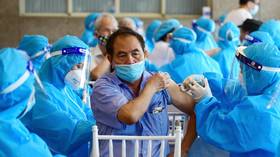 One undeniable outcome of the pandemic is that the public's faith in scientific and medical authorities is perhaps at its lowest point in living memory – and no objective observer can truly be surprised.
At the beginning of the Covid-19 pandemic, the US President's Chief Medical Adviser Dr Anthony Fauci and US Surgeon General Dr Jerome Adams told us not to wear masks, until they instructed us to wear one everywhere we went.
The Covid vaccines were declared to be effective at preventing the spread of disease, until breakthrough cases around the globe proved that wasn't so, and that effectiveness was downgraded to "against hospitalization and death."
Both The Lancet and the New England Journal of Medicine, two of the most prestigious medical journals in the world, have issued embarrassing retractions to widely publicized papers eventually found to have too little validity to be published.
Anyone who suggested that the pandemic originated in a Wuhan laboratory and not a Chinese wet market was labeled a conspiracy theorist by official sources who later had to admit they were possibly correct. The same proved true for everyone who accused Fauci and the National Institutes of Health of funding gain-of-function research at the lab: they were crazy, until they were right.
The US Centers for Disease Control and Prevention and the American College of Obstetricians and Gynecologists urged all pregnant women to be vaccinated, asserting that the new injections were completely safe. Now, a new review of that same data suggests that one in eight women spontaneously aborted her pregnancy after getting the jab.
Even medical terms – such as 'herd immunity', and the word 'vaccine' itself – have literally been redefined over the past few months.