The non-Western countries aren't falling all over themselves to support Ukraine. Western rhetoric about the rules-based international order ring hollow, particularly in countries that have been on the receiving end of U.S. military and intelligence campaigns. From Trita Parsi at msnbc.com:
The West appears blind to its own hypocrisy and narrow interests in calling for a rules-based order.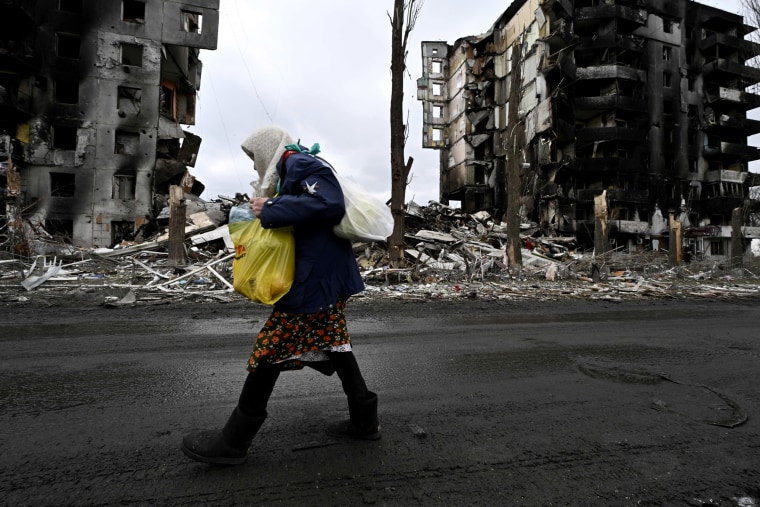 A woman walks past a destroyed building in Borodianka, Ukraine, on Wednesday.Genya Savilov / AFP via Getty Images
Ukrainian President Volodymyr Zelenskyy has been nothing short of brilliant in his outreach to Western audiences. The overwhelming Western support for Ukraine is due not only to the brutality of Russia's illegal invasion, but also to the astuteness and charisma with which Zelenskyy has made Ukraine's case for aid.
But as effective as Zelenskyy has been in drumming up Western support, Ukraine's message has been far less compelling to audiences in the Global South, where many countries have declined to join Western campaigns to sanction Russia's economy and isolate it diplomatically. This was vividly clear at the Doha Forum last month in Qatar, where Zelenskyy and Ukrainian Deputy Foreign Minister Emine Dzhaparova were given a big platform. A powerful communicator in her own right, Dzhaparova — a Muslim Tatar from Crimea — played on themes favored by Western leaders: This war is ultimately not about Ukraine but about the survival of the "international rules-based order." President Joe Biden and European leaders have repeatedly framed the conflict in these terms, as well.