It looks like a few sensible voter security measures aren't returning America to the Jim Crow era. From Tom Ozimek at The Epoch Times via zerohedge.com:
Early voting in Georgia broke records this week despite last year's adoption of election integrity measures that critics derided as "voter suppression" and President Joe Biden called a "blatant attack" on the Constitution and compared to a Jim Crow-era relic.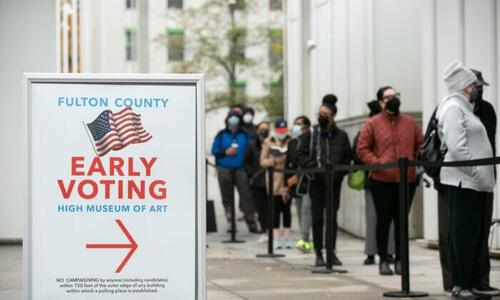 More than 710,000 people had voted early in Georgia's primary election as of May 19, according to the secretary of state's office, which is 149 percent higher than at the same point in 2020, when elections officials encouraged vote-by-mail and early voting to reduce crowding at polling stations amid the COVID-19 pandemic.
"The record early voting turnout is a testament to the security of the voting system and the hard work of our county election officials," Georgia Secretary of State Brad Raffensperger said in a statement.

"As Secretary of State, I promised to strike a strong balance between access and security in our elections, and these numbers demonstrate that I kept that promise and that voters have confidence in Georgia's elections," he added.