If a corporation adopts woke ideology, it loses money and perhaps goes broke. The military doesn't lose money (although it spends an awful lot of it), but it can lose wars, and woke ideology undoubtedly makes that outcome more likely. From Naveen Anthrapully at The Epoch Times via zerohedge.com:
Republican lawmakers have decried the Biden administration for policies that they say are weakening America's military through leftist indoctrination and "woke" ideological posturing to appease "Ivy League faculty lounges or progressive pundits."
"Unfortunately, President Joe Biden and his administration are weakening America's warfighters through a sustained assault fueled by woke virtue signaling," said Sen. Marco Rubio (R-Fla.) and Rep. Chip Roy (R-Texas) in a report titled "Woke Warfighters," according to Fox News.

"Our military's singular purpose is to 'provide for the common defense' of our nation. It cannot be turned into a left-wing social experiment. It cannot be used as a cudgel against America itself."
The report cites several examples of the administration's stance. One example was Defense Secretary Lloyd Austin's first action after being confirmed by the Senate, which included signing a "racism" memorandum. The message directed all service members and Department of Defense civilian employees to conduct a "one-day stand-down" to discuss extremism within their ranks.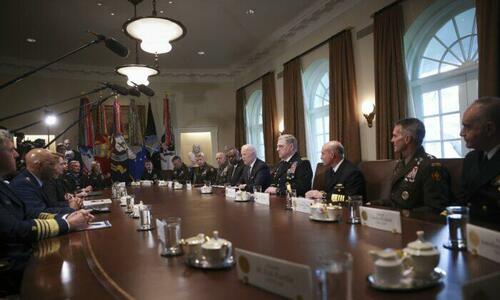 This was despite the fact that in a force of more than 2.1 million active and reserve members, there were only 100 such cases of alleged "extremism," according to data collected by the Biden administration.
"The world is a dangerous place, and the Biden Administration's insanity is eroding our greatest source of security in it," said the report, citing the military's promotion of Marxist critical race theory, sex reassignment procedures, and transgender ideology, as well as the punishment of those who oppose such things.
Another example was that of Bishop Garrison, who currently serves as Austin's senior adviser on human capital and diversity, equity, and inclusion issues. The report said that Garrison promoted the "1619 Project," which is based on a falsified history of the United States and part of a revisionist education being taught in some schools across the country.
Another case cited in the report was that of Kelisa Wing, the chief diversity, equity, and inclusion officer at the Department of Defense Education Agency.
"Wing also wrote a book to teach white children that they have white privilege and that 'white privilege hurts a lot of people.' The book comes with an exercise to help kids understand 'what parts of my identity have provided me with privilege.'"