Somehow Tucker makes it through his entire article without mentioning that all the cities to which he's referring have been run by Democrats for decades. It's not a bad article, but the omission is glaring. From Jeffrey A. Tucker at The Epoch Times via zerohedge.com:
There was something deeply demoralizing about the recent Mayoral election in Chicago, once among America's greatest cities. The good news is that the catastrophic reign of a deeply corrupt and crazed mayor, who piled egregiously racist policies on top of one of the worst COVID responses in the country, came to an end. The bad news is that a guy who is arguably worse took her place.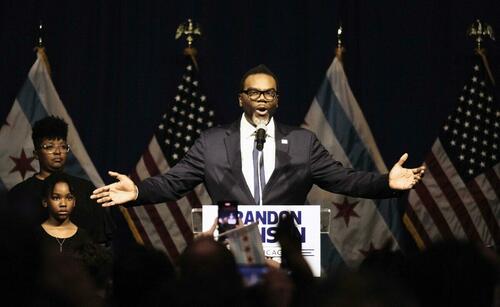 As Allysia Finley put it in the Wall Street Journal, "Brandon Johnson's victory in last week's Chicago mayoral race is a reminder that no matter how bad things get, they can always get worse."
The city itself is facing bankruptcy but that economic reality is changing nothing about city policies. Crime is out of control. Poverty and despair are on the rise. And the residents who can leave are fleeing. Businesses are closing up shop and 175,000 people have left the city in the last two years, leaving the place at the mercy of people who only vote for more handouts and union controls.
The people who leave feel a sense of guilt, but the decision is entirely rational. One person's vote makes no difference and no one has the obligation to stick around and become a sacrificial victim of pillaging politicians and dangerous criminals.
It's all deeply tragic. The first time I went to Chicago many years ago, I was just thrilled to discover a city which seemed to combine the best of New York City but without the chaos, confusion, and muck. But sadly, those days have come to an end.
At some point in the last three years, many people just decided the situation was hopeless and left for greener pastures. Sadly, this put the city into a deep spiral of political disaster to the point that hopes for change and renewal seem to have been permanently dashed. Maybe it will come back to life at some point but maybe not in any of our lifetimes.