It looks like big centralized office buildings in big centralized cities aren't going to be the wave of the future. Why should they be? From Tyler Durden at zerohedge.com:
It's no secret that commercial real estate is in bad shape across the globe…
Things are so bad, in fact, that 26 Empire State Buildings could fit into New York City's empty office space, as occupancy in the city is hovering around 50% of prepandemic levels, according to the chair of Harvard Economics Department, Edward Glaeser and MIT's Carlo Ratti.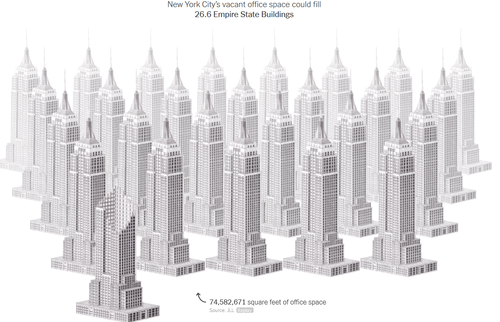 The cause? Thanks to the pandemic, working from home has become the norm in many industries – a phenomenon which has also heavily impacted mass transit systems in America's largest cities.
In downtowns from Chicago to Los Angeles, the physical layout of the 20th-century city is clashing with the new economy. Since the 1920s, single-use zoning has divided our cities into separate neighborhoods for home, work and play. Work-from-home and Netflix have made these distinctions irrelevant, but our partitioned urban fabric has yet to catch up.

To create a city vibrant enough to compete with the convenience of the internet, we need to end the era of single-use zoning and create mixed-use, mixed-income neighborhoods that bring libraries, offices, movie theaters, grocery stores, schools, parks, restaurants and bars closer together. We must reconfigure the city into an experience worth leaving the house for. Streets once filled by commuting crowds can be reinvigorated by those who really want to be there. –NYT