First they came for the J6 defendants. This is the kind of government behavior that sets ugly precedents. From Matt McGregor at The Epoch Times via zerohedge.com:
An attorney has called on House Republicans to investigate and defund the Department of Justice's (DOJ) efforts to prosecute defendants being treated as domestic terrorists for their presence at the Jan. 6, 2021, rally at the U.S. Capitol.
"This could go on for two or three more years unless House Speaker Kevin McCarthy takes the floor and declares that the DOJ is abusing legislation," Carol Stewart, who represents several J6 defendants, told The Epoch Times.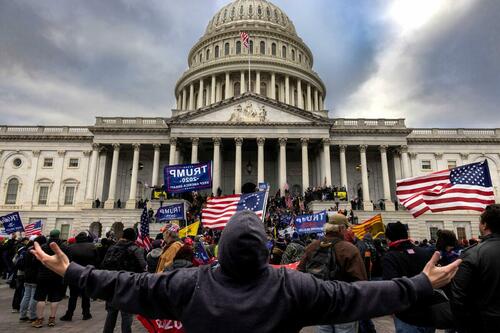 Stewart said McCarthy can make a resolution and start an investigation into the abuse of U.S. criminal codes 1752, 231, and 1512, which relate to restricted buildings or grounds; civil disorders; and tampering with a witness, victim, or an informant, respectively. She said these laws are being misinterpreted to frame American citizens who protested at the Capitol building as culprits in a plot to overthrow the 2020 election through a violent insurrection.
The problem, Stewart argues, is that the story the DOJ, the FBI, and the mainstream media are telling "is a lie."
One of her clients, 56-year-old Eric Christie, is charged with violating statute 1752, a misdemeanor that criminalizes the act of entering or remaining in "any restricted building or grounds without lawful authority to do so."
In addition, he's alleged under subsection (b) of the law to have been brandishing "a dangerous weapon or firearm" on restricted grounds.
On Christie's tool belt was a hammer that Stewart said was never removed, as it was part of a construction worker costume.
"He did not breach or push aside any barriers, assault police, participate in any violence, witness violence, encourage violence, enter the building, or do anything besides use protected First Amendment speech in a peaceful manner in a location that he believed was approved for speech," Stewart wrote in her facts of the case.