The vultures are gathering, hovering above the credit markets. From Wolf Richter at wolfstreet.com:
"It feels like we're about 12 months away, but we could get into extended innings."
As corporate indebtedness in the US has reached precarious heights, and as risks are piling up, in an environment of rising interest rates and a hawkish Fed, the smart money is getting ready.
The smart money is preparing for the moment when the air hisses out of the exuberant junk-bond market, when liquidity dries up for over-indebted companies, and when their bonds collapse. The smart money is preparing for the arrival of "distressed debt" – it's preparing now because these preparations include raising billions of dollars for their funds, and that takes some time.
"Distressed debt" is defined as junk-rated debt that sports yields that are at least 10 percentage points above equivalent US Treasury yields.
Distressed-debt investors can make a killing by buying bonds for cents on the dollar during times of economic stress, of companies that they believewill make it through the cycle without defaulting. In this scenario, a distressed bond might sell for 40 cents on the dollar, and two years later, the company is still intact and the credit squeeze is resolved, and now the bond is worth face value. For those two years, the bond paid a huge yield to investors that bought at 40 cents on the dollar – and the profit might be 200% in capital gains and interest.
The thing is: The junk-bond market has been booming. There's no credit squeeze yet. And the riskiest end is flush as the "dumb money" is still chasing yield. And for the smart money, there's not much to pick at the moment; but down the road, the future looks bright.
S&P Global tracks distressed debt in its US High Yield Corporate Distressed Bond Index. The index peaked in early July 2014, on the eve of the oil bust. Over the next 18 months, it plunged 56% as the oil bust was wreaking havoc on oil-and-gas bonds. But on February 11, 2016, the index bottomed out. New money began flowing into the oil-and-gas sector. Banks started lending again. The surviving bonds soared. And the index skyrocketed 113% in 28 months: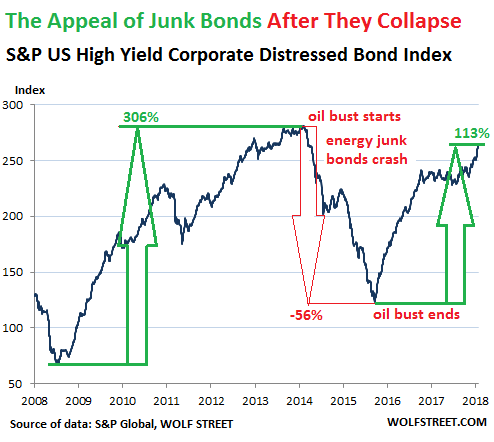 To continue reading: The Smart Money Gets Ready for the Next Credit Event