There hasn't been any MAGA Republican demonstrations or protests that have been in field goal range of the left's George Floyd riots. From Scott Wheeler at The Epoch Times via zerohedge.com:
National security analysts, scholars, and a federal indictment reveal that threats from left-wing extremist groups in the United States are more dangerous than right-wing and "MAGA Republican" groups recently cited by the Biden administration as "threats to democracy."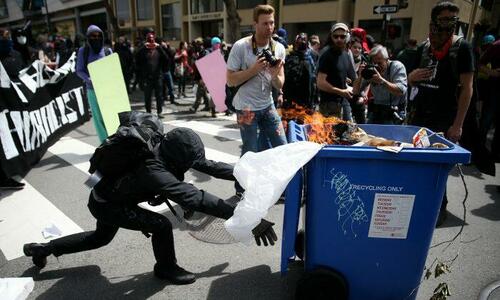 According to the U.S. government, some of the left-wing groups are being funded by Russian influence operations to "sow discord, spread pro-Russian propaganda, and interfere in elections within the United States."
On July 29, the Department of Justice (DOJ) announced the indictment of a Russian national for working on behalf of the Russian government to sow discord in the United States.
"From at least December 2014 until March 2022, Aleksandr Viktorovich Ionov, a resident of Moscow, together with at least three Russian officials, engaged in a years-long foreign malign influence campaign targeting the United States" the indictment alleged.
A DOJ press release stated, "Ionov—working under the supervision of the FSB [Russia's Federal Security Services] and with the Russian government's support—recruited political groups within the United States, including U.S. Political Group 1 in Florida, U.S. Political Group 2 in Georgia, and U.S. Political Group 3 in California, and exercised direction or control over them on behalf of the FSB."