There doesn't seem to be quite the press coverage of Biden's children in cages as there was of Trump's. From Tyler Durden at zerohedge.com:
A record number of migrant children are being kept in Border Patrol 'cages' as a surge in migrants continues to overwhelm the Biden administration's ability to keep up.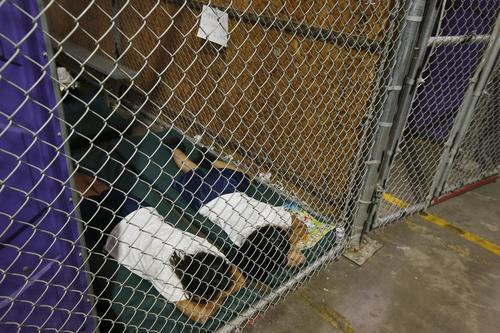 As of Monday, as over 3,200 unaccompanied minors were reported in Border Patrol facilities, with nearly half being held beyond the legal three-day limit, according to CBS News, which added that the Office of Refugee Resettlement only has around 500 beds available near the southern border to handle the influx of children entering US custody.
According to government documents obtained by CBS News, nearly 1,400 unaccompanied minors had been held in Customs and Border Protection (CBP) holding facilities for more than three days as of Monday, despite the agency's legal obligation to transfer these children to shelters operated by the U.S. refugee agency within 72 hours of taking them into custody.

Nearly 170 unaccompanied children stuck in Border Patrol custody are under the age of 13, according to the CBP documents.
Less than three weeks ago, CBP held just nine unaccompanied children past the three-day limit according to one document.
According to one former Department of Homeland Security (DHS) official, the number of children in Border Patrol custody is the highest in the history of the agency.
Last week President Biden was briefed on the need for 20,000 beds to handle the influx of child migrants along the US-Mexico border, while his administration has reportedly been eyeing Fort Lee Army Base in Virginia to help with the surge. A leaked document revealed how the administration is being "overwhelmed" by child migrants, according to Axios.