The rioters don't want people taking pictures or videos. They're often abetted by the mainstream media. From Nancy Rommelmann at reason.com:
Both sides are getting their information through purposely bottlenecked media reports, and the results are predictably distorted and dangerous.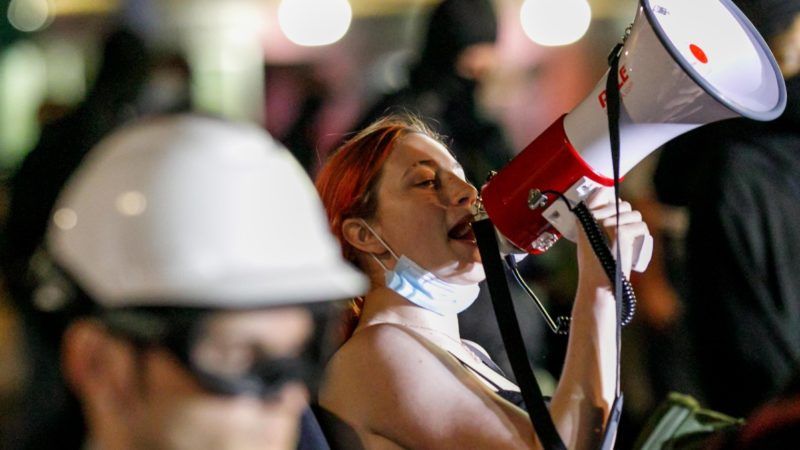 (John Rudoff/Sipa USA/Newscom)
"YOU'RE NOT ALLOWED TO FILM!" is a cry you hear incessantly at protests in Portland, Oregon, always shouted at close range to your face by after-dark demonstrators. You can assert that, yes, you can film; you can point out that they themselves are filming incessantly; you can push their hands away from covering your phone; you can have your phone record them stealing your phone—all of these things have happened to me—and none will have any impact on their contention that "YOU'RE NOT ALLOWED TO FILM" and its occasional variation, "PHOTOGRAPHY EQUALS DEATH!"
I cannot say who came up with these anti-camera battle cries. But it's easy to understand why protesters use them: to shape the narrative the country sees about the protests. And that narrative, in my estimation after many weeks covering street clashes in a city where I lived for 15 years, is 90 percent bullshit.
I wondered, the first time I attended the protests at the federal building back in July, who all these young people with PRESS emblazoned on their jackets or helmets were. I asked one such guy who he worked for.
"Independent Press Corps," he told me. As it turned out, dozens of other young PRESS people happened to work for the same outfit, which I at first assumed was a fancy way of saying "I want to report stuff and stream it on my Instagram."